2 Sep
As every summer ends in New Braunfels I always lament that I didn't go swimming enough or that I didn't go tubing or enjoy all the fun, outdoorsy stuff there is to do here. By October, I'm full-on bitter about the cooling weather and how it means no more swimming.
I somehow forget that I'm not really that outdoorsy and that even though I love swimming, I hate being out in 105-degree heat and get cranky if the air conditioner doesn't stay well below 77 degrees in the house.
This summer is different because instead of somehow feeling like I lost the time due to summer lethargy, it's actually been jam-packed with activity for me and for the whole family. There's been more travel than I've done since before the kids were born, the conclusion of something I'd been working on for a while (or at least the next phase of work on it), a door opening for a new site that I had been wanting to write for but that I hadn't been able to commit time to and, honestly, the best summer I've had with my girls yet.
That's been kind of of the showstopper around here. Several times a week my wife and I will exchange a look as our daughters are calmly playing together or doing something completely new and we'll say, "They're getting bigger." They're growing up. They're not babies or even toddlers. Our Lilly turned 6 a few weeks ago. Only a few days later she lost her first tooth (no worries; it was painless and she didn't even notice it was gone until I pointed out the gap). As I write this, she's completed her first week of 1st Grade. Her sister, the curly-haired wild child, is still destructive and prone to bursts of turbo energy that exhaust us all, but she has also grown sweeter and kinder and more in love with us and her sister than I could have hoped.
She'll make a huge fuss about taking something to school (a toy, a paper with writing on it, anything) and after giving up on trying to convince her she shouldn't, I'll find out that she only wanted to take the item to school to show it to her favorite teacher because she can't keep something she loves to herself and wants to share.
This summer we got to take the girls to Disney World, we were able to make a beach trip, Lilly went on a bunch of field trips with her older-kids daycare to places I've never even seen, I went to Las Vegas for my first work trip in a very long time (more on that in a bit), my wife did some work traveling and I attended my 20-year high school reunion. We sold our damn Austin house, relieving years of stress.
I haven't been tubing yet (there's still time!) but as Labor Day approaches and the summer winds down, I don't feel like I missed much. In fact, I feel like I'm ready for things to calm down and conclude. It was a great summer, but not for all the reasons I usually expect.
Work writing
A really busy couple of weeks at work. Here's what was in the paper and online.
Digital Savant columns: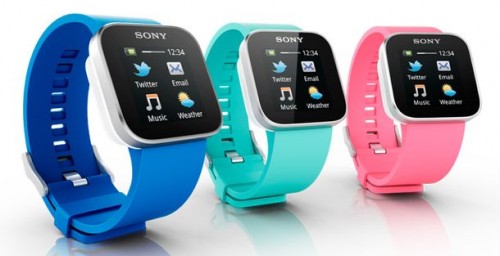 Digital Savant Micro features:
Other random stuff:
A lengthy blog review of the Leap Motion controller.
A silly blog post suggesting new names for Microsoft's SkyDrive.
A blog post about a new Austin-based video commenting tool called FrameBuzz.
Las Vegas
Work trips are super stupid-boring, so I won't subject you to the details of a trip I took for Vegas, but I'll just say that because of the nature of my beat and the nature of working at a newspaper with a limited travel budget, I don't take a lot of trips to cover stories outside of Austin.
Since last year, when it was announced that South by Southwest Interactive would be doing a conference in Las Vegas, my then-editor and I assumed I would go, but even a few months before the event in August, I still had my doubts that I would actually go. Things have been so busy this summer that I began to like the idea of just not going but when my editors approved my travel plans, I started to get excited about it again.
I'm so glad I went. Not only where there plenty of things to write about before the SXSW V2V, as the Vegas conference was called, but I had a lot more fun there than I was expecting, a combination of knowing a few people from Austin and other places that I got to hang out with, a really upscale venue with killer hotel rooms (The Cosmopolitan) and an overall laid back and accommodating vibe that wasn't as crazy or as hectic as the SXSW I'm used to in March in Austin. No matter how wild things might get or how late I stayed out, I didn't have to worry about a 45-minute drive home, which is always in the back of my mind at SXSW Interactive.
As I tried to make clear in my stories, there's a lot of change happening in downtown Las Vegas and techies are beginning to take notice that there might be some big opportunities there (MyStatesman version here).
As for what I actually wrote, I did a Digital Savant column about how the event came together and a Sunday business story about the Downtown Project aspects that helped draw SXSW to Las Vegas.
After the event was over, I did a wrap-up of the overall event. (MyStatesman version here.)
I also shot a video at V2V that was expertly edited quickly by Emma Janzen. You can find that below.
Other highlights from Vegas: playing blackjack with friends one night drinking endless Manhattans (my new favorite get-drunk-quick drink!) and woke up to the worst hangover I've had since my 20s and maybe ever. I literally could not look at a computer screen for several hours.
How hungover I was: tried to pour coffee and missed.

— Omar L. Gallaga (@omarg) August 13, 2013
And then I thought about how that might look on Twitter.
All the stuff I posted earlier about gambling and being hungover was totally made up, my lawyer has advised. #SXSWV2V

— Omar L. Gallaga (@omarg) August 13, 2013
I went to Ellis Island for karaoke and had the time of my life. Vegas is the perfect karaoke city.
I finally got my ass to the pinball museum, which was pretty great but won't replace the soft spot in my heart I have quickly developed for Austin's Pinballz.
I had my doubts about The Cosmopolitan because the first impression it gives is pretty douchey, but my goodness the rooms are enormous and the dealers are super friendly and the restaurants there are incredible. Highly recommended, just don't let the freaky lobby freak you out like it did me:
Creeping me out, you guys… https://t.co/JQNRSGNmOn

— Omar L. Gallaga (@omarg) August 12, 2013
I put a whole mess of Vegas photos on Flickr. You can view the whole album here. I put a few of them below as well.
Previously
I mentioned the launch of Previously.tv a while back, a site created by the founders of Mighty Big TV / Television Without Pity and featuring lots of alumni as contributors.
It's a wonderful thing to be able to write for people you love and respect and enjoy working with, but even after the launch, I hadn't approached them about contributing to the site because I was trying to force myself to stop freelancing and to finish the novel I started before the start of the year. With that finally done in late June and me pretty far into the second draft/editing of it (about 210 of 360 or so pages), I finally sent a query and was thrilled to be welcomed aboard.
My first piece for Previously ran last week and was an "I Am Not a Crackpot!" suggesting that the part of Marc Maron in the TV show Maron should be recast.
This week, I wrote a story about The Walking Dead's lead character Rick Grimes for the site's Career Week and I've got another piece in the pipeline.
It feels wonderful to be a part of that team and if you're not already checking out that site and making it part of your daily reading, you're missing some really fun, creative TV writing. I mean, this Tales of the Gold Monkey post alone… my God. Consider it indispensable for the coming fall TV season.
Those space monkeys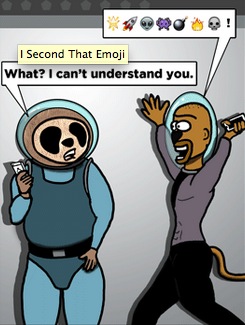 We're still updating the space-faring adventures of Bobbo, Meany and the crew in weekly fashion and their Twitter account has been pretty active of late.
Also, we're about to hit 300 "Likes" on Facebook. More of those are always good, hint hint.
It's been so long since I've updated this blog (mostly lethargy, but also I didn't feel like I had much to say till now) that if you haven't kept up, you've missed five whole new comics!
They are:
We've been nothing if not extremely topical.