27 Jul
This is what is happening, in bite-sized updates:
Sold! We got three offers the first day and one the second day and then no more offers. We were told by our fantastic realtor that this is common in this market and the good news was that two of the first three offers were serious and we got into a little bidding war situation. We came out about 5 percent above asking price and we closed on Friday, so a combination of a scorching hot Austin seller's market and good timing means we came out pretty well ahead.
That wouldn't have happened if we hadn't put a big, scary amount of money into fixing the house up for sale, but the investment and the worry paid off.
Now I need some margaritas to celebrate.
Travel!
Because of kids, we rarely go anywhere, but this year has suddenly been full of travel. We did Disney World and shortly after that, I went to my 20-year reunion in Oklahoma. We ended up going on a shorter second vacation two weeks ago to sunny S. Padre Island which the girls enjoyed almost as much as Disney.
On that trip, I got to really relax and enjoy myself, eat a lot of seafood and see some rescued sea turtles (above), which I immediately chose as my new spirit animals. As opposed to a cranky crab, which I can be when I'm not at the beach (below).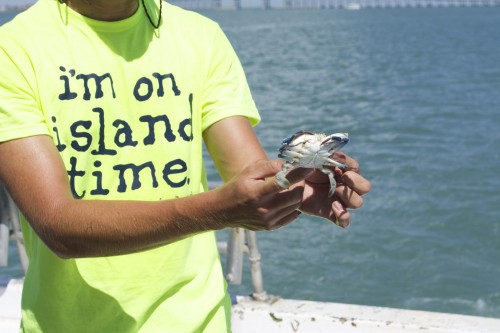 My wife took a just-concluded work trip, so I've been juggling taking care of the kids with work, which has left me exhausted. But the kids behaved, which they always seem to do when one of us is away (do they think they're in trouble or something?), so it went well. My wife will be taking her turn going solo when I go cover SXSW V2V next month in Las Vegas. I like Vegas, but it's a work trip and it's no fun going there alone. Hope the conference is exciting and has good energy.
Novel
I feel weird saying much about this because like all superstitious writers, I fear the jinx, but the quick status update is that I took a few days away from the material and have since spent the last week and a half just reading back through it without trying to edit as I go. I was expecting to be horrified and to want to rewrite huge swaths, but instead I've been surprised by stuff I don't even remember writing and pleased with a lot of it. Next step will be to give it a hard 2nd-draft edit/revision and to get some feedback from a very tiny group of people I asked to read the first draft. Not sure what'll happen after that, to be perfectly honest but I'm definitely not going to just put it away. This year for me has been primarily about this project and very little else.
Things that have brought me joy lately
This video (which I was very late to seeing), this song, this blog post, this Tumblr, this T-shirt, the photo below.
Don't worry, we were able to reclaim her arm from the seaweed virus before she ate Megatokyo.
Stuff I wrote
My Digital Savant column last week was a roundup of reviews: the video games The Last of Us (depressing!) and Gunpoint (clever and funny!), as well as the Nikon D5200 SLR camera.
This week's column was about the nonprofit Austin Free-Net, which has been around since 1995 and has been doing great work in the Austin community to bring Internet access and computer services to those who wouldn't otherwise get it.
I also did some Digital Savant Micro stories about clickjacking and about Google's just-announced Chromecast dongle.
One new thing at work is that it looks like I'll be doing more video stuff soon. More on that as it happens.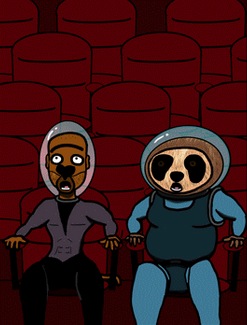 Monkeys who hump and more
The Space Monkeys! really liked the movie Pacific Rim(which I still need to see) and this week did a whole lot of sexing in honor of "Hump Day."
Give them a Facebook Like, won't you?
I made some tacos and they ended up in a book
Through one of those random Austin things that happens from time to time, a friend of mine found himself working on a book about breakfast tacos and he asked if I'd like to be included. This involved me making some tacos and taking them to a photo shoot and writing up a little bit about my love for and history with the humble breakfast taco.
The book turned out beautifully and a launch party for it drew a huge crowd.
Buy a copy. I promise it's worth your money and time.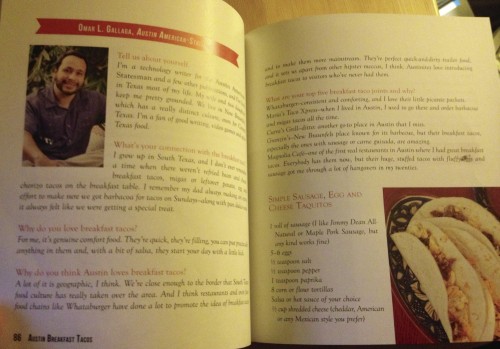 On Twitter
Two out-of-the ordinary things that happened on Twitter recently.
The night of the Trayvon Martin / George Zimmerman verdict, I tweeted something I thought was very vague and of course that's the thing that people latch on to retweet hundreds of times.
This has been a pretty rough week for anybody who cares about human beings.

— Omar L. Gallaga (@omarg) July 14, 2013
You can't really see the responses or how some people reposted it anymore, but what was interested was the responses said way more about the person than the original Tweet did about me, I think.  It was a very weird, bad week on multiple fronts and in some ways it just summed up the bummer that was in the air that night.
The other Tweet was much more recent and came from my daughter. I think it may have had something to do with a dinosaur exhibit she just saw, which must mean she thinks her father is about to become extinct:
I swear this happened tonight – Me: You're both growing up. I miss having babies! Lilly: You. Are. Going. To. Die. You're old.

— Omar L. Gallaga (@omarg) July 27, 2013
I wish I'd had a good response to that other than, "Damn. You got me. Well done."