10 Sep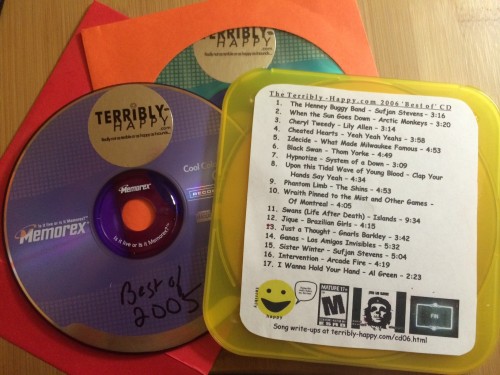 I guess it would be just at 10 years ago that I started a weird little project (in my 20s, I was always starting weird little projects; I guess I still do that but the stakes are a little higher now).
I had an online journal that would become a blog soon but I was still in the habit of publishing pretty regularly on this site. I would post entries, pretty planned-out essays and updates, three times a week, which today just makes me want to go take a long old man nap. There must have been more caffeine in the water back then.
The site never had a huge following, but it did have readers and enough of them that I felt pretty confident that a mix CD project, where people would PayPal me $1 to physically mail them a CD of that year's best music tracks (at least ones I had bought and had access to), made perfect sense.
It didn't make perfect sense. It was kind of a pain in the ass, actually, the cutting the labels and finding the perfect plastic disc holders and the laborious burning of the CDs (so much time at the computer, sitting; how am I not dead of a heart attack already?). But it was also really gratifying to get feedback on music I'd chosen, years before we could share iTunes playlists or play DJ in a virtual room (that has already come and gone in that time). So I did it two more years. There was an '04 mix, an '05 mix and an '06 mix (2004, 2005 and 2006, not 1904, 1905 and 1905 young smartasses).
I think the reason I stopped doing it after 2006 was that we had a baby in 2007, which made everything non-essential pretty much impossible, but also because people were already like, "CDs? Really?" even by that point. People were downloading their own music, legally, even, and it was just easier to tell people where to find music online than mailing them something physical. So I stopped doing that project.
About a week ago, a woman emailed me asking about the CDs and whether the list of those songs was still up somewhere. I dutifully sent her the links to find them. She also asked if I was ever planning to convert those lists of songs into Spotify playlists, something which just had never even occurred to me. I mean, I've put Spotify playlists here on the site that I still update. But this was a long way back to reach.
I wrote back and said that was a neat idea, and it would be great if somebody could do it (hint hint), but I was too busy to work on that myself.
And then I went on Spotify to see how much time it would take. About 10 minutes total for all three CDs, it turns out.
I listened to them again for the first time in years and except for a few bad-in-hindsight choices (James Blunt, that U2 song that isn't really that great, too much Franz Ferdinand), I really enjoyed digging those songs out in order. I have them all on my phone, I can listen to them individually anytime, but having them by year in that time-capsule form really speaks to me. Maybe I'm just remembering the careful curation that went into those CDs and the satisfaction I got designing those labels and shipping them out in flat brown envelopes. But whatever it is, the magic still works on me.
So here they are, the three playlists. There were just a tiny few songs that aren't on Spotify (the Pixies song, for instance, you can easily find on iTunes or elsewhere). In one or two cases, a live version has been subbed in for something that's not on the service. And if you really want that Islands "Flesh" song, you can probably do a Google for it or drop me a line and I can point you in the right direction, probably.
Thank you to that reader for reminding me how much fun I had doing this and for bringing some joy back to me that I thought had link-rotted away on the Internet, a thing I loved that I believed was just digital dust now.
Terribly Happy Mix 2004
Terribly Happy Mix 2005
Terribly Happy Mix 2006
Work/Statesman stuff
Let's see… since last time, I wrote a column about the great Intergalactic Nemesis series and how it's expanding its metaverse into more digital areas such as podcasts, webseries and digital comics. More on that below where I talk about Statesman Shots.
I did a grab-baggy column reviewing the Tablo TV box (which lets you record over-the-air broadcast to a DVR) and discussing a new show from The Daily Dot and Rooster Teeth. I wrote about that on its own blog post as well.
And most recently, I wrote an essay about some things I think are happening on Facebook (and maybe soon on Twitter) that really came out during last month's protests in Ferguson, Missouri. I wasn't looking to write a Ferguson think piece, but I think there are even larger issues happening on social media and this was one clear warning sign of where we're headed.
Other new stuff: Digital Savant Micros about whether you should use a password manager, what Instagram's "Hyperlapse" app is all about and about Samsung's new Note Edge device.
Also talked about Robert Kirkman of The Walking Dead coming to SXSW Interactive, which just made the fest even more relevant to me.
And on Tuesday, I did a little bit of coverage on Apple's announcements of the Apple Watch and new iPhones.
Statesman Shots
Shots is moving along and we got the Mayor! Very exciting time as we're kind of ramping up what we're doing and have gotten comfortable enough with the production side and being on mic that we're able to think a little more long term and have even more fun with the show.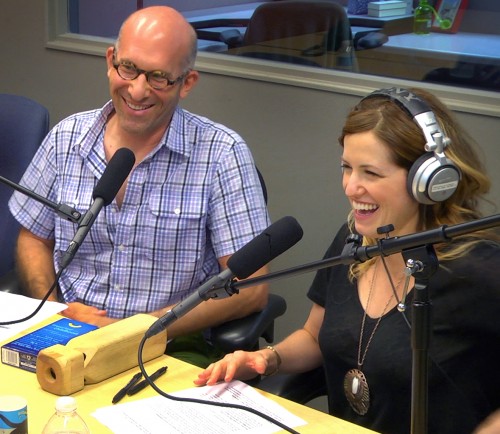 Episode 31 with Jason Neulander on The Intergalactic Nemesis — Jason and I had crossed paths a couple of times before and I have friends who've been cast members in "Nemesis." We had a really great conversation for a story I did and as we were talking it clicked that he would make a great guest on Shots. So we booked him. And he brought sound effects. And they were awesome!
Video: Foley artistry with Jason Neulander (choo choo!)
Audio:

---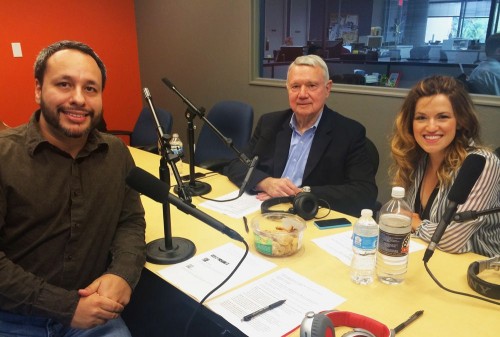 Episode 32 with Mayor Lee Leffingwell on Austin's many changes — I still kind of can't believe this happened, but we had been saying a while how great it would be to have the Mayor come on and as we were ramping up, it just didn't seem realistic, but then it suddenly did and all it really took was a call from me to the Mayor's office, a few emails back and forth to let his very nice press person Reyne know what the show was about and what the topics would be and we were scheduled! The Mayor turned out to be really, really game for what we were doing, relaxed and poised, and just way more fun than we could have expected. I like to think we were probably a welcome break from the more serious stuff he has to deal with from day to day.
Video: What's the Mayor's going-away party going to be like (Please watch, this might be my favorite video we've done)
Bonus blogs: A more textual version of the going-away party conversation and a Q&A the Mayor did with our listeners/readers (this one won't be live until Wednesday morning).
Audio:

Other stuff
Please allow me two cool media things that happened in the last week.
First, a dumb Tweet I wrote/drew about a Facebook outage got some attention.
I panicked and made a paper Facebook profile. #FacebookDown pic.twitter.com/Hq8NAOjWJH

— Omar L. Gallaga (@omarg) September 3, 2014
It actually was mentioned by Carson Daly in a Today Show segment:
And then, this week, I did a TV segment with FOX 7 locally about Apple's announcements. You can find that here:
So that's it for all the big updates! Now here's some random photos.
Oh yeah, about that last one. I went wakeboarding at the Texas Ski Ranch for the first time. That's a fun story I'll have to tell you soon that involves lots of water splashed in my face.