Continually updated...

ARCHIVES
NEWS
Update, 5-7-10: The new site is up! You can get there via the main page (terribly-happy.com). Go check it out. The RSS feed is redirected, so if you're already subscribed, you don't need to do anything. New RSS address is http://terribly-happy.com/feed/
Friday, April 30, 2010
Renovation
Tomorrow is Change Day around here.

I'm taking the day off work and spending most of that time moving this blog from Blogger (booo!) to Wordpress (yay!).

The site design has not really changed, for better or for worse, in 10 whole years. In 2004, I added the Bloggystyle section using Blogger as my content management system. The site hasn't really evolved much since then and, unfortunately, neither has Blogger. I know they have new tools and plug-ins and whatnot, but they require you to house your site on Google's servers and, sorry, but no. I'm very happy with my Web host, have been for ages, and when I called today they even assured me that they'd help make sure things on the server/database side were good to go for the Wordpress install. I'm not sure Google would have answered my phone call.

I have no idea what Bloggystyle is going to look like after tomorrow, I just know that starting on May 1st I won't have the ability to post using FTP through Blogger anymore. It's forced my hand on a redesign I never really wanted, but now that I'm doing it, I'm going to go with a platform I really like and am comfortable using. Blogger, for a long time, has really not been doing it for me, but since this site has been so low-maintenance, I didn't really care.

Now that I have the chance to really burn it down and start over, I hope to do it right.

The plan is to install Wordpress, choose a theme that's fairly close to what's here now (or at least gives me the flexibility to keep the ads where they are and keep things neat), and move the Bloggystyle archives from Blogger to Wordpress. The pre-2004 journal entries should stay where they are as will the rest of the site until I figure out whether I want to convert the static pages as well.

I'll go back and tweak things later, probably try to tag/categorize entries in the archives. I will probably add comments to the site, which I've never used before and maybe some other Wordpress goodies. I'm excited and wary at the same time.

If things go badly and I'm not able to get a working version of the site up tomorrow, it may be a few days before there's another update around here. When things are working, I'll post a quick update.

Man, I feel like I'm going in for surgery. I feel like making the obligatory, "If I don't come out of this alive..." statement.

So, I'll see you on the other side! When next you see Bloggystyle, it should look very, very different.
---
Tuesday, April 20, 2010
Trailers Without Pity: Knight and Day
We made a list recently of our next six Trailers Without Pity movies, a task we'd neglected until we had exhausted our

last

12-week-old list. We gazed upon the list of summer bonanzas -- action, comedy, super-hero drama (check, check, check) -- among them, we had this odd-duck movie with Tom Cruise and Cameron Diaz. It's due out in just a month and except for a few commercials, this movie has almost no buzz.

The press site: barren of even a smattering of images that might flesh out our idea of this movie.

Tell me if you can figure this trailer out. While I'm sure the production values will be high and the movie will be professional in its format output, I don't know if I see a movie that humans want to consume in there. Maybe I'm off and this will made $100 million+ in its first weekend, but my gut, the one that also likes gourmet donuts, tells me this will not come to pass.

If there is buzz on this movie, it's anti-buzz, the kind that comes from a flying attention-hungry vampire insect, one that is not striped in black and yellow, but in the very colors whose lack of pigment cause you to turn away, bored.

Knight and Day, folks:
---
Daycares, nannies and remote controls
Couple of recent things -- I had a story in Saturday's paper about Nurture My Child, a service that helps parents navigate the world of day cares, nannies other child-care options. This started out as a Masters of Their Domains, but then we did away with that feature after a long run and it wasn't really about the Web site. So instead, it ran as a Raising Austin column.

And yesterday, after a break of several weeks, I was on NPR to talk about the future/death of remote controls. You can find the blog entry (with the audio embedded! Nice that we can do that on blogs now) here. There's also a transcript.

I turned 35 last week, which was a little weird. I've got some loose ends to tie up before summer, like moving this site over to Wordpress, getting Lilly potty trained and making some decisions about some summer writing projects. Nothing earth-shattering. I'm still really happy at work, really happy with the freelance stuff I'm doing (Trailers w/o Pity, NPR, etc...) and really have no complaints. It's a strange state to be in.

I'm going to an online journalism symposium at UT this week, which I hope will re-inspire me. It's not that I'm in a rut, but I feel like I can see a rut down the road and I need to try to do some new things before I get there on my work blog and probably around here, too.

The other big news is that People Dancing at Concerts got mentioned on MetaFilter and some other blogs, so it's gotten a nice boost in traffic and comments after languishing for a while.
---
Wednesday, April 14, 2010
How I Zinged Glark
A conversation about podcasting:

OMAR: I was thinking we could talk about ads if that's not too out there and boring. What with the Twitter ad stuff.


GLARK: It is. It's NPR interesting. It's in fact NOT interesting. You can quote me on that. To NPR


OMAR: NPR interesting is proven to be 15 percent more interesting than most podcasts.


GLARK: When you do a segment on me. No doubt.


OMAR: You kinda blow the curve.


GLARK: I know.


OMAR: for MONEY. ZING!
---
Monday, April 12, 2010
More iPad than you may want or need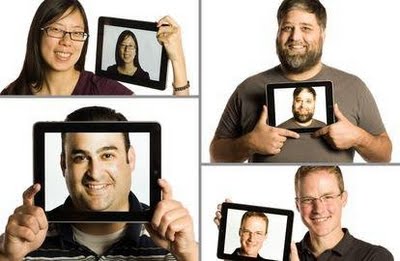 Photos by Jay Janner, Austin American-Statesman
Last week was Week of the iPad and even without an NPR segment, it feels now like that's all I talked about recently. At length.

First, I was working last week on setting up photos and finishing up a story about Central Texas folks who had bought iPads on launch day. You can see four of the photos above; I think they turned out great, but setting it all up was a lengthy process.

The comments on the story, very "Get off my lawn and take yer gotdang iPad with you!" are very fun to read.

There was also a video:
Then I did a live chat on the iPad and a full write-up myself based on having an iPad in our house since Saturday.

Lastly, Glark and I did a very lengthy podcast on Age of Lasers about our impressions of the iPad, apps and the just-announced iPod 4.0 update.

Pretty much, I'm iPadded out.
---
Monday, April 05, 2010
Trailers Without Pity: Toy Story 3
How could we resist the computer-generated siren call of a Pixar movie as a Trailers WIthout Pity? (Well, all right, we didn't do one for "Up," but how were we supposed to know how good it would be?)

We learned our lesson and will never underestimate Pixar again, at least until they jump the shark with "Cars 2."

Here's our Trailers Without Pity for Toy Story 3, which we very much liked.
---
Sunday, April 04, 2010
Easter, medical stuff, iPad
First off: I had a couple of stories in the paper this weekend. The first was, of course, about the iPad. It was a remix of a blog entry I did last week gearing up for the launch but with a few changes and info boxes thrown in. (Some of which didn't make it online.)

I plan to tell the whole story of how I ended up buying one -- the short version is that in December we almost bought a Macbook Pro to replace my wife's ancient, battery-dead iBook G4 and I told her to hold off and see what Apple announced in January. (We were also having a baby at the time, which made it easy to wait.) When the iPad was announced, she decided that was pretty much all she needed, as long as there was a way to print from it. (There is.) She really didn't need a $1,200-$1,500 laptop for her limited computer needs, so the way we saw it, buying an iPad instead of a Macbook Pro was going to save us about $800.

We then decided to wait until after the hoopla had died down, but when Apple didn't send me an iPad to review in advance of the launch (long story, not worth getting into), I figured it behooved me, like a horse's foot, to get one so I'd at least be up to speed on it for my job and for NPR. I didn't want to be the one tech writer in the country who hadn't laid his grubby paws on one.

So with that flimsy justification, I went to Best Buy and got one Saturday morning. The line and the wait was short and my very short review is that I'm much more impressed with it than I was expecting to be. I'm sure Glark and I will be talking about it at length this week and I plan to write more about it on Digital Savant. I think it's a B/B+ in terms of hardware, but the apps and overall operating system software are what really make it shine. It's just a damned elegant little machine.
The other thing that was in the paper was a story I've been working on for months about four medical technologies that are new or not things you've probably heard of being used in Central Texas. I've done a few round ups like this before and with all the coordinating and photo scheduling it's really like writing four separate stories for one piece. But I think it turned out well. Hey, I took that photo, too!

The other big thing this weekend was that it was really the first time Lilly has understood Easter (Easter the egg-hunting holiday, not the religious part, but still). So she had two Easters, with each side of the family, and we're up to our balls/ovaries in plastic eggs, candy, Easter baskets and chocolate bunnies. I can't even imagine how much it's gonna multiply when Carolina is old enough to join in.

Oh, and in one hour, I turn 35. What's up with THAT?
---
Tuesday, March 30, 2010
iPad and other geeky stuff
Yesterday, we did a segment on NPR about the iPad. It comes out on Saturday and, as with the lead-up to the iPhone, a tsunami of information keeps coming out. Moreso, in fact, because this time people know what to expect.

There were news stories coming out right until the very hour we recorded the piece and I tried to make it as current as possible, but just a day later, it already feels like we missed some things.

Ah well, I'll be doing more stories this week for the Statesman and over on Digital Savant. Still not sure if we're going to get our hands on a review unit, but we'll see.

Here's the audio of the NPR segment and the blog post with lots more information.
Over on Age of Lasers, Glark and I also talked about the iPad as part of a wide-ranging discussion for Episode #009, or "The First Episode In A While Where One Of Us Didn't Completely Mess Up An Hour of Audio Recording Somehow."

This is supposed to be a weekly podcast, but we've been beset with all kinds of problems, including sickness, South by Southwest, scheduling conflicts and the aforementioned audio disasters.

Hey, I just now noticed that Glark redesigned the whole Web site over there! Well done, Glark!
---