3 Jul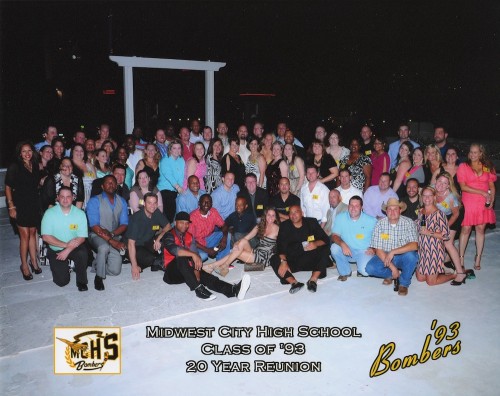 10 years ago, I went to my 10-year reunion and it never even occurred to me that I was already writing on this site at the time and that of course I documented it. I sometimes forget I have this whole diary thing that dates back to 2000.
But in a way, I'm glad I didn't read what I wrote before I flew to Oklahoma City on Saturday for a super-quick round-trip 20-year reunion. I'm glad that the fog of parent brain and 10 years passed made me go into it with no expectations other than that at least two good friends of mine would be there and that I really wanted to see them.
Because it turned out to be a weird night in a lot of little, wonderful ways.
I can't imagine there is anyone who goes to a 1o- or 20-year reunion and doesn't find it a little strange, unless you live in the place you went to school and are in close contact with all the people who came up with you. I imagine reunions have always been a little weird, a mix of the people you remember clearly, the people you remember but never really spent much time with even when you were in close daily proximity and then the people who unfortunately completely left your brain and don't return in memory even when the older version of them is standing right there in front of you.
And then there's the Facebook effect. I'm pretty sure a lot of people didn't come to the reunion specifically because they feel they already get the nostalgia/curiosity hit they need from The Social Network and that a $400 plane ticket and accommodations aren't going to add much to their mental picture of how their peers ended up.
I went alone. My wife has no interest in going to her reunion and had much, much less interest in going to mine and I completely agree with that decision. Unless you're into people-watching and hearing second-hand stories of glorious old inside jokes, it's just an uncomfortable thing to be the spouse at these things unless your relationship is new and you're still in the figuring-out-your-mate stage where everything is a window into their past and personality. If you've been with something for 15+ years, it becomes more of the same shit that you've heard hundreds of times, more like.
The reunion did make me more aware than ever of the strange things constant online contact (again, mostly Facebook) have done to us. There were people at the reunion who spoke as if they interest nearly every day and the people that I do actually talk to on Facebook seemed like people I'd seen around within the last few months, not 10 whole years. When the night was winding down and people were saying their goodbyes, it wasn't, "I'll see you in 5 or 10 years," it was, "I'll post some pics and tag you" or "I'll let you know on Monday what I find out."
The people who want to stay in touch are still in touch. Even the people we didn't really want to be in touch with necessarily all the time we're still talking to.
I'm not saying that's good or bad; for me it's nice in a lot of ways and only negative once in a blue moon. But it is different, it is weird and I'm not sure that my generation has figured out what to do with it beyond simply ignoring it and moving on.
I did have a good time, though. It took place in a strange and awesome building in downtown Oklahoma City (I went to school in nearby Midwest City) at some eccentric rich person's house. I mean rich like having the kind of money where you say, "Screw it, I'm putting cars in the living room and getting poker playing dog throw pillows. And putting a DJ on the rooftop!" It completely blew away our 10-year reunion, which was in a boring ballroom that nobody remembers.
I'm glad I went, the expense was worth it and at the end of the night, I had gotten to spend (not enough) time with some very close friends I never get to see. Sometimes just a few minutes of that is worth the money and the trouble.
Some photos and Tweets from that night:
What do I tell people at my reunion? "I'm now a pirate / scissor maker / foot specialist / Druid / Pawn Star / billionaire / mixologist?"

— Omar L. Gallaga (@omarg) June 22, 2013
Me at the reunion entrance: "As you can see by my Versa rental car, I exceeded all expectations."

— Omar L. Gallaga (@omarg) June 23, 2013
Me at the reunion a dozen times tonight, I bet: "Yes, I had long hair. Yes, I cut it after high school. No, I didn't keep it. Who are you?"

— Omar L. Gallaga (@omarg) June 23, 2013
"Didn't you used to be a lot younger?" #reunionquestions

— Omar L. Gallaga (@omarg) June 23, 2013
The entrance to my high school reunion. Not even joking. http://t.co/Zc70x0YImR

— Omar L. Gallaga (@omarg) June 23, 2013
Look at that handsome devil! Not yet beaten down by life #reunion http://t.co/DfPh3SBfBl

— Omar L. Gallaga (@omarg) June 23, 2013
This reunion's got everything. Vintage cars. My friend Marcus. A dog statue… http://t.co/TkRXrwrB9k

— Omar L. Gallaga (@omarg) June 23, 2013
I swear I'm not making this #reunion up. http://t.co/1c5F0HDwG9

— Omar L. Gallaga (@omarg) June 23, 2013
"You look exactly the same!" "You totally don't!" #reunion

— Omar L. Gallaga (@omarg) June 23, 2013
If you have the chance to have your next #reunion at an eccentric rich person's house and have lots of booze there, YOU SHOULD DO THAT.

— Omar L. Gallaga (@omarg) June 23, 2013
My 20-year reunion was so nostalgic that when I woke up this morning, I was in a band called Ace of Bass.

— Omar L. Gallaga (@omarg) June 23, 2013
---
Work stuff and monkey stuff
I was on vacation for a week when the Digital Savant column and Micro didn't run, but it's been nearly a full month since I've updated, so here's what I've had in the paper in the interim:
I wrote a column about how complaining on social media about a product or service doesn't always reward you with a happy ending (though it does work for some people). Last week's column was about whether health- and fitness-related apps can really change your habits and make you a better, happier person. A MyStatesman account is required to view that article, but I also wrote a free blog post with supplemental information on the topic.
This week's column was about civic hackathons and the impact they're making on the Austin community. Like the last one, it's on MyStatesman, but I've been told a few times via Twitter by readers that it's also available elsewhere on the web. I have nothing to do with that if that's the case.
The Micros recently were about movie-related apps Anything After and RunPee, a definition of the digital locker concept UltraViolet, what to do with old VHS movie tapes  and an explainer of Google+ Hangouts. We'll be doing a Hangout on Tuesday to coincide with a column that runs that day in the paper. (Info on that in the Hangouts Micro.)
I kept busy with a few other stories and blog posts: there was a story about Austin tech guy Whurley and his UnGrounded innovation flight to London; a story about the Win8 version of the ACL Access app and Dell's involvement with that; a post about coping with the end of Google Reader; a post about an Austin-made orthodontics app called Mighty Brace (which will run next week as a "Raising Austin" column in expanded form); and a short story about family mobile company Famigo.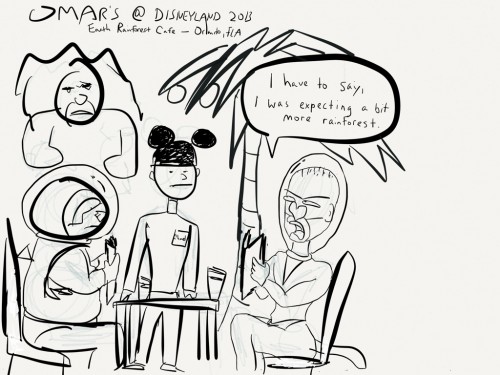 Space Monkeys! has rolled along with a new comic about parking problems and, because Pablo and I were both traveling, two vacation-themed sketches over the last two weeks, one themed to Costa Rica, the other themed to my Disney World trip.
A bit'a meta 
Wow, that's a lot for having been on vacation. Speaking of which, I wrote a huge chunk of blog about my Disney World trip, which happened before my reunion, but this blog post is already far too long so I'm splitting it into two blog entries.
The good news is that it's already written, but I'm saving it for next week to time it to my next column, which ties directly in with that trip.
Sorry for the long break. It's just been busy-as-crazy around here and I'm excited that I'm very close (days close) to finishing up a huge writing project that I've been working on since December. It's been a lot of that and very little blogging here, but that ratio should change soon as I get done. Hope to tell you more about that in just a bit.