6 Jun
In 2001, I bought a house. It was a crazy time. 9/11 had just happened and we were all exposed tooth nerves walking around trying to Make Sense of It All with no idea of what the future might be. We did strange things.
I was only 26. I had a very great editor who told me, "The interest rates are insane. It's never going to be like this again. You need to buy a house."
So I did. I'm really impressionable that way.
The house was not very large and it was not very new, but I didn't know that then, I just knew that this incredible home with a gigantic backyard perfect for parties was suddenly mine and all I had to do was not go totally broke paying to move in. After that, things would be fine. And then they were.
I didn't stay long in that house. Just a few years later, I got married and we moved further south and we kept the house as a rental property, managed by a company that made sure all we had to do was stay paid up. It got stressful when we'd lose tenants, but things always worked out and I always maintained that all the expenses helped us on our income taxes. (We found out later that it really didn't, but it was nice to have that illusion for so long as we were losing money.)
We thought about selling the house. Many, many times. There were times when we were paying double mortgage and had fetuses growing in bellies (OK, just the one belly) and my wife was all, "WHY DO WE STILL HAVE THIS MONEY PIT!?" and I would remind her that the actual movie The Money Pit had a happy ending and she wouldn't talk to me for the rest of the night.
Good times.
Then the housing crash hit. I don't know if you heard about it. Fucking dire wolves attacked the housing market and chewed it up, ruining it for everyone! Yes, they were supposed to be extinct. That's why everyone was so surprised. Well, except for economists who predicted the housing collapse in books like, The Fucking Dire Wolves Are Coming! and Paradise Lost: The Housing Market is About to Be Chewed Up BY FUCKING DIRE WOLVES, WHY WON'T YOU LISTEN?!
Every time the subject of selling the house came up, I would raise my hands diagonally at about a 45-degree angle and say, "The housing market. What are you gonna do? It's a terrible time to sell. Dire wolves."
Then the housing market got good. Then it got really, really good. Then we decided to sell the house.
Part of my reluctance to sell it was that I had always fantasized about moving back to Austin and maybe expanding the house. The yard is so enormous that wouldn't be impossible. But the neighborhood we lived in never really got into renovation and expansion projects and at some point in our stay in New Braunfels, my wife decided we should die here.
Usually when your wife tells you you're going to die somewhere, it's pretty ominous and you should probably not be anywhere near that spot from then on. But the conversation was actually quite pleasant. It went like so:
Rebecca: After this, we should build one more house in New Braunfels and then that's it.
Omar: What do you mean "That's it?"
Rebecca: That would be our last house. That's where we'd retire.
Omar: You mean that's where we'll die?
Rebecca: You first.
The thing is, I actually found all that comforting. We have a plan. That's a little story I trot out whenever someone asks me why I'm not trying to get a job in New York or D.C.. I tell them it's because I already know where I'm growing old and they back away slowly and then go subtweet about it.
Did I mention we are selling a house?
I took you on that detour to get you to here, where I am in the middle of trying to fix up a house to sell right before we take a big family trip, which is like trying to ride a roller coaster while painting a house, which incidentally is something that costs close to $3,000, I just learned.
I was never a big DIYer when I lived in that house. I'm still not. I barely have time to write my own blog posts. So it was with dismay that we saw how dated the fixtures and ceiling fans look and other bits of wear and tear that accumulated in the time since I lived there.
The yard is still spectacular. The back patio, with its Saltillo tile and tin roof, is still wonderful and I miss it a lot. The backyard has so many trees and so much shade that it was always 10 to 20 degrees cooler than everywhere else in the summer. We visited the house recently in the middle of a rainstorm and I imagined myself sitting there with my cup of coffee in the morning using my laptop back when Wi-Fi was a new and wondrous thing of no wires.
I am buying ceiling fans at Lowe's and talking about paint swatches and remodeling bathrooms (by proxy; we have people) and fixing fences and yards. We're making a house beautiful for people we don't know yet, picking out items for a place we'll never live, trying to make it nice but not so nice that it'll impose our style on someone who might find it crappy. It's a weird, tricky balance, trying to spend enough to make the house desirable but not spending so much that we defeat the purpose of selling.
So that's what's been on my mind. I miss the house but I'm also eager to be rid of it. In the years since we moved out, we've replaced a roof and a furnace, put in new carpet, made endless small plumbing repairs and gotten stressed about house issues for a place we don't even live. We don't need it anymore and we haven't needed it for a while. But letting go of something you love that you think you could love again is never easy. Now I just hope someone loves it just as much as I once did.
Other new things happening
I have a new editor at work, which is exciting and fun.
I mentioned a family vacation. I'll have a lot more to say about that soon. It involves a whole world of Disney stuff. You can probably guess.
I'm still painting miniatures, this time a set for my brother while I await my Zombicide stuff to arrive in the fall.
Also, I am now buying comic books on eBay, so instead of having a midlife crisis where I buy sports cars and unsuccessfully solicit blowjobs from waitresses, I seem to be going the other way, continuing to do things I stopped doing as a teenager before there was such a bay as eBay.
And lastly, my older daughter finished kindergarten, which seems unreal and far too soon, but then again, she's worked really hard this year and come a long way and is thrilled to be going to first grade. She did great.
Work stuff and monkeys
Of course, I have articles to share.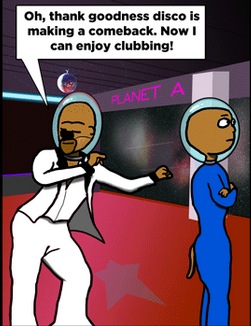 I wrote a meditative column about whether our use of technology is making us speak less. I'm not sure there's a definitive conclusion there, but certainly the ways we use our voices is changing, at least.
And this week's column was about our changing TV viewing habits, a column prompted by the debut of Arrested Development's fourth season on Netflix. I also did a bonus blog with a few more thoughts on the subject.
There were also new Digital Savant Micro features on the Xbox One and on Gmail's new tab-focused design changes.
A note on some of those MyStatesman.com stories. Our paywall goes up soon for reals as our free preview ends. That means links I post here to articles will often require a subscription to read. Blog posts won't be affected, but most of my weekly stuff that runs in the newspaper will.
Separately on the blog, I wrote about a cool civic tech expo, a plastic surgeon live Tweeting a procedure, and an Austin-made app for the website A Beautiful Mess.
Our favorite monkeys in space were mystified by "Shelfies," panicking at the disco, and engaged in a discussion about TV binge-viewing.
Give our monkeys a Facebook like or a Twitter follow, would you?
And that's it! Please hope for me that the house sells so I can stop buying hardware and embarrassing myself.