---
Saturday
Our last day in Seattle and we didn't have any time to waste. We had a 2 p.m. show and we had to do a quick run-through that morning.
I made a quick sprint to the across-the-street McDonald's, which was becoming my second home for breakfast treats. I don't eat McDonald's, ever. This is the most I've eaten there since I was 12.
But they have coffee, they have sausage and cheese biscuits and, oh yes, they have coffee. So McDonald's 'n me are tight on this trip.
We all gathered downstairs in our little behind-the-bar pretend stage and ran through our second set. We found out the night before that we were the only troupe at the festival that was doing a different set at each performance. Every other sketch troupe brought one solid set and performed it twice. Overachieving Latinos that we are, we were mixing it up with only the beginning and ending sketches (the Time Travel/Slo-Motion Walk Intro and Greasers) the same.
This impressed other sketch folks, and it was a good reason to get people to come back and see us a second time, but it was also exhausting. We'd only had since Labor Day to put all this together and we'd had some frayed nerves during rehearsals when things didn't come together as quickly as they did. (I was a culprit: I didn't get off book quickly enough as the host for "The Chicano Dating Game" and the skit had suffered in rehearsals.)
This morning, we'd just come off a performance-smooth, but tech-nightmarish set the night before and we wanted to do better, even though we had no idea how many people would show up for a show in the middle of a Saturday afternoon.
We ran through and found some rough patches in our set. Things that had seemed solid and perfect in rehearsals suddenly didn't seem as spot-on. A simple dance step at the end of our set was causing difficulties. But we got through the run-through and all headed upstairs to get ourselves together. Some troupe members were going to go to the theater early to get our tech stuff resolves (so we wouldn't have a repeat of the keyboard incident of the night before). Others of us hung back until we needed to be there at 1.
When we did get to the theater, another troupe was up. We put our stuff in the dressing room and found we had about a half hour to kill. Karinna, Patty and I went in search of coffee.
We hit the little stand across the street that Karinna and I had visited the night before, but this time, there was some crusty old guy at the window instead of a the hipster coffee swinger we'd dealt with previously.
We searched our pockets and figured out that none of us had cash. So Patty asked the guy in the window if they took plastic.
"No," he said and walked off, inside his little totalitarian coffee empire of one.
Patty called him back. "Um, is there a place where we could get some cash, like an ATM?"
"You can go to the KFC up the street. They take credit cards. You can order a soda."
We all looked at each other.
"I'd really like to get some cash so that we can come back here and buy some coffee from you. Is there a place nearby?"
"There's an ATM near the KFC. You can get a drink there," he told us.
Okay, first off, fuck this guy. Second... Well, there is no second. Fuck that guy! He was the only mean person we encountered in Seattle, and he just happened to be the ass standing between us and caffeine.
If you own a Mom 'n Pop coffee stand in Seattle, more power to you. I didn't visit Starbucks once my whole trip in solidarity for your plight against the corporate manifest whateverthefuck. But when you treat your potential customers like boppy Brittneys when all they're trying to do is buy fucking coffee that you, as a merchant of coffee warez and coffee accessories make your living providing, you should just dispense with the attitude and serve up the java, posthaste, muthafucka. A smile, though nice, is not even necessary.
Patty was livid, but we figured, hey, it's Seattle. How hard can it be to find another place that serves coffee? Two blocks up and an ATM run later, we were in luck. It was a coffee emporium, the kind that sells branded mints and titanium mugs on the side, but screw it. We got our delicious drinks (mine was a white chocolate mocha) and we made tracks back to the theater.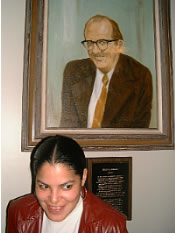 Heh. Funny.
The show. It went well for the most part. I had a line blank or two in "Chicano Dating Game," which absolutely sucks because I'd gone to bed the night before running lines in my head and woken up that morning running them some more. Mical told me during rehearsals that I was thinking too much about lines and the skit as a whole and not being in the moment. I think that's exactly what happened. There was a flub or two in another big skit, but nothing noticeable, I hope, just stuff that we could tell was happening because we'd seen the skits rehearsed a few dozen times.
At the end, we got huge applause again and people were great to us. Monty had shown up again, for which I was grateful, and a lot of the people in the audience, we later learned, were other sketch troupe folks, the heartiest audience for comedy on a Saturday afternoon.
We got our props and costumes together, posed for photos, and then it was over. Our sets were done. We could settle down and enjoy the festival without the pressure of performance. We'd come. We'd, for the most part, kicked ass. Now we could relax.
Just after our set, Mical and I stuck around to see "Asian Sings the Blues," a mock-cabaret which was hilarious. It made me want to do a one-person show. (Even though this wasn't exactly a one-person show -- he had "assistants" who were thoroughly abused.) What struck me about the show was how relaxed Fiely A. Matias was. He chatted with the audience before the show, took pictures with people, even gave a shout-out to Latino Comedy Project members in the audience before starting. He made little comments throughout. It was loose and structured at the same time. Our stuff is very rigid in structure -- we don't do improv, and our ad-libbing tends to happen in rehearsals, not on stage.
We bailed after that, agreeing to come back that night for the rest of the shows missed the night before.
Mical and I hung out with his step-brother and a friend for a bit back at the hotel, then we went searching for some lunch before meeting up with the others. We found a great little pizza place and had a beer (er, a beer and some pear cider) before taking our pizza and meeting up with everyone at the big music museum underneath the space needle.
We only had an hour and a half before the 7 p.m. shows were to start and since I'd missed stuff the night before, decided not to spend the $20 for the museum. Those that went (Adrian, John, Joaquin) told us later they had an amazing experience.
Those of us that were left, except Patty who was resting back at the hotel, went amusement parking. There's an outdoor area with rides, video games and food. We went on a mini-roller coaster (I don't think Mical would have gone on it if not for the beer we'd had earlier), bumper cars, and this crazy virtual reality ride that actually flips and spins and goes all over the place. My cell phone came loose out of my pocket and we could hear it banging against the walls every time we went upside-down or sideways.
(The phone has since died. I'll give "Omaphone2" a proper eulogy sometime soon in these pages.)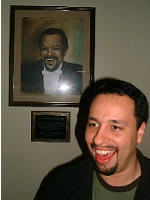 Wish I could remember what we were smoking when we took these.
After our burst of kid-antics, we got back to the theater in time to see four sketch troupes in a row.
The first was the one I'd kept hearing about, Totally False People. Their set indeed lived up to the hype. They had tight performances and really funny ideas that never wore out their welcome. The Michael McDonald sketch was talked about for days after and my favorite, the tracheotomy sketch, was a simple idea taken to the extreme.
Feeling a nice comedy buzz, I had no idea what to expect from the next troupe, Bald Faced Lie. I only knew they were local. What followed was the highlight of the fest for me. They did a 45 minute set with no words. There was music and sound effects, but the whole of it, from a longer show called "Speechless" was just flat out brilliant. It was the only set in the show that made me laugh, made me sad and at one point had my crying with laughter. They did straight on sketch stuff, dance numbers, physical comedy and some brilliant stuff using a screen, a light and silhouettes. I was inspired and impressed.
Troop was another one I knew little about, but I'd been chatting with a guy from their group before and was excited to see them. They had a really absurdist style, a world full of zombies and cowns (half clown/half cow). They were able to take something like sitting and reading off bills and make it funny through sheer will of performance and confidence. Their stuff was stuff that I could never see getting into one of our shows -- we're so focused on having stuff that's funny on the page, and their set seemed determined to make comedy out of stuff that wasn't always in the writing. I was impressed for completely different reasons than with any of the other troupes.
We skipped the last show, which was probably a mistake, but we were all sketched out. We needed a break. We wandered around, grabbed some food, had some drinks, and eventually made it over to the late-night sketch show where we'd be showing a video "Masa y Sangre." It was a sort of fringe show, a place where troupes could do small skits or unusual stuff that didn't make it on to their festival sets.
About 12:30 we all got in our seats, packing the small theater, and began. It was loose and fun, with free beer served and the mood silly. "Masa" was first up and it got a riotous response, maybe the best its ever gotten in a public showing. Mostly I think it was that these were our people; folks that understood what we do and got every single joke and nuance in the piece. Adrian, who wrote it, was beaming. I think he was caught off guard by how well it translated and how blown away people were.
There were lots of funny sketches that night, a lot of gross-out humor (which is perfect for a late-night show) and a curveball here and there (a slide show about a kingdom of refrigerator condiments and sauces was my favorite).
We dispersed, saying our goodbyes to all the other troupes and telling them all we were hoping to see them in January at the San Francisco sketch fest.
Some of us went to a diner to get some food and on our way back to the hotel, walking, we saw some real life ho's in weird fur coats and thigh-high boots walking a square around the blocks surrounding our hotel and the needle. I'm not completely positive, but I think I saw some pimps, too. They were standing around watching the girls, I guess making sure nobody messed with them. You'd see middle-aged guys pulling up in their cars and stopped.
I used to live in South Austin, where a lot of that is said to go on, but I never noticed it, even when I used to drive past that area on my way to work every day. Suddenly, I was in an HBO Undercover special. We walked past The Point quickly, and on that strange note, our trip was over.
The next day, we nearly missed our flight at security checks, we paid again to have the gargantuan keyboard sent back, and we watched the craptacular Men in Black 2 on the flight back.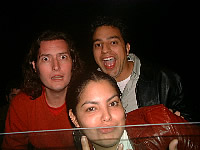 Saying goodbye at the final bash.
I missed it as soon as I got home. I missed the cool air and the huge shopping areas. I missed hanging with other comedy people and, mostly, hanging out with our comedy people, traveling together for the first time.
But it was good to be home, in my bed, sleeping again, eating normal food, giving my feet a rest from all the walking and standing and wandering.
I can't wait to go back next year.