And here's the other bomb: I am you. Omar 2021, if you'll pardon the distinction.
So why am I writing? Well, for one thing, I just installed, "Paradox Creator 4.1" and I wanted to see if it works. The other reason is that I was looking back through the Terribly Happy archives over at the Smithsonian ("The Smithsonian" is what our family calls the Internet terminal in the bathroom) and I thought 20 years back was as good a place as any to warn you about the future.
For you see, the future is a place of great peril, Omar 2001. We have suffered terrible wars. We have seen a fantastic famine, as prophesized by Nostradamus. The air is thick with the ashes of an Earth in perpetual Nuclear Winter.
Naw, I'm just fuckin' with ya. It's pretty much the same as it was in 2001.
Actually, that's a lie, too. There have been a lot of changes. Like that cantaloupe smell, for instance. Hey, I'm sorry about that, by the way. I thought you might get freaked out by this whole future message thing, so I wrapped the message in a fragrance you were familiar with. I would have used the smell of a woman's perfume, but considering the luck you have with the ladies, I figured that would be as foreign as anything else I could send from the future.
Ha ha. That's a little joke. Omar 2021 isn't an asshole. Really.
So here's the deal. I noticed that around this time in the year 2001, you kinda sound a little mopey. You don't seem your usual self. I mean, you should be. You just had a great run of a comedy show that will lead to some fantastic things (oops. I just created a paradox by letting you in on that. I should delete that, but awww, what the fuck...). You're on the road to some really great things, you just don't know it yet.
Plus, if you knew how sucky the future is, you'd totally just enjoy yourself right now.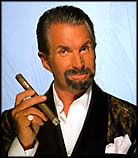 Omar, circa 2021.
Like remember how you used to lust after Brooke Burke and other unattainable women? Well, now with all the surgery and genetic technology, all women look like that. And all the men look like variations on Tom Cruise. Remember Mel Brooks? He's still alive and he looks like fucking Tom Cruise. It's boring is all I'm saying. Once you've slept with someone who looks like Brooke Burke a few hundred times, it starts to get a little boring, you get what I'm saying?
Not that I know, or anything. I've been happily married for the last 15 years. To Brooke Burke (the original).