The day is finally here.
Today, I'll take a valium and some Tylenols (they are three pills packed into a tiny sealed envelope that I'll tear open an hour before, Mission: Impossible-style) and lie in a chair where a tiny flap of skin will be peeled back to reveal the sensitive eye tissue underneath. A laser will be fired repeatedly. In an hour or two, I should be able to see better than I have without assistance since before I was six years old.
I'm been planning for this LASIK operation for more than a year, saving money and stashing away cash from a settlement of a car acccident that happened more than a year and a half ago.
It's been lots of back and forth, for all that year, wondering if I'd really go through with it. Now the day is here, and I've already paid. I paid for office visits and for the surgery itself. I paid out of pocket for an eyedrop prescription for antibiotics I'll drop into my eyes post-surgery. I have a ride to the clinic. My mother and my brother are coming over, too, to make sure I don't go straight home and claw my eyes out like Oedipus after he had his LASIK done.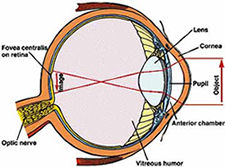 All of those things are screwed up in my eyeballs.
And now it's the hours before and, yes, I'm a little nervous (that's what the Valium is for, after all). I want to go to sleep tonight and wake up tomorrow, not fumbling for my glasses on the nightstand. Not stumbling to the bathroom to put contacts in my sleep-deprived, tired eyes. When I wake up Friday morning, I want to look up at the ceiling and not see blurry, white haze.
The money is the thing. I'm glad I already wrote the check. Because right now, it sounds like a lot of money. It is a lot of money. Besides a car that I'll be paying for for the next three and a half years, this is the most I've ever spent on anything. And this isn't something like a computer or a car where I can give somebody a ride or burn CDs for someone. This is totally and selfishly a gift to myself. It's about me, and me only. There's no one else to share this enhanced vision with. And the thought of spending that much money, thousands,on myself... that just makes me uncomfortable.
But as has been pointed out many times recently by those closest to me: I don't have kids. I don't have a mortgage or a wife or massive debt. If I'm ever going to do this, now is the time. I may never have this much money lying around, waiting to be used, not tied up in the credit holes life seems to help us dig for ourselves.
Dr. Wong took a final look at me yesterday, examing the topography of my corneas, giving me the final eye test. He shook my hand. He said he'd see me tomorrow. He made me watch a scary video showing me all the risks. I signed some forms.
It's all over except for the lasering.
So I'll be at home, taking it easy, healing, for the next day or two.
Promise I'll tell you how it goes next time.
---
I don't think of myself as supremely entertaining or anything. I mean, it's nice that you all read this site and think it's worth the time to go through all this text, and that always makes me feel good. Sometimes, though, like this week when I know I won't be able to update on Friday, I feel a little like I'm letting someone down. I really want to entertain you, but it'll be pretty physically impossible given that eye laser thing.
So, here's something, then. I talk a lot about Radiohead and Lucinda Williams and Crouching Tiger and other mass entertainment things that you can probably check out any damn other place on the Web.
Let me offer a few things that maybe you haven't heard about, but that I promise are worth checking out. These are things that I'm enjoying right now, like how people who use Blogger or LiveJournal always have those little rails that say, "Listening To:" and "Reading:" Well, I never get to do that. But now, I'll share some cool, secret stuff that you really should look into this weekend. Pretend I'm around, hanging out with you, telling you breathlessly why these things are so cool:
Music video: "Clint Eastwood" by Gorillaz. I just saw this video last night on MTV2 and it blew me away. Cool groove, cool animated video. Listen -- any time you have a giant animated purple gorilla doing a dance from "Thriller" with a big red ass hanging out, you've got me, okay? No need to go any further. You've completely sold me. You can camp out in front of MTV2 and look for the video (they're also showing a new Bjork video from her upcoming Vespertine album), or you can download it at this site. Seriously, go check this out. The band includes members from Blur, Cibo Matto, the artist who does "Tank Girl" and spinners from Handsome Boys Modeling School (Del the Funky Homosapien and Kid Koala).
Downloadable songs: There are several, so if you have Napster, try and find them. Napster is very flaky now, so you may want to try Audiogalaxy instead. "Dos Cosas Ciertas" by Ozomatli is a new song that wasn't on their green album, so it may be on an upcoming realease. You can download it in MP3 for free from Musicblitz. You're welcome. Other MP3 suggestions: "Asleep From Day," by Chemical Brothers and Mazzy Star, "Yokushitsu" by Shena Ringo, "August Day Song" by Bebel Gilberto and "Cross the Tracks," by Maceo & The Macks from the Snatch soundtrack. Tell me those aren't some kick ass songs.
Movies to see (theater): If you haven't already seen Bridget Jones' Diary, go check it out. It was much funnier than you'd expect and is actually better than any of the summer movies I've seen out lately. I don't care if you hate Renée. She's really good in this one. Honestly. Of course, you should only see this if you haven't already gone to see Memento.

Movies to see (rentals): I've had some really good luck renting movies lately. The Emperor's New Groove is very, very funny, and everything that Shrek should have been. (Maybe the group I saw it with got slipped a bad print, because none of us liked it very much while the rest of the world is going apeshit [or rather, Ogreshit] over Shrek. Sorry. Can't see it.) Even if you don't like David Spade, you've gotta love Patrick Warburton (Puddy from Seinfeld) in this one. Wonder Boys is also fantastic. I'm amazed this one didn't do better at the box office, but then again I was one of the people that didn't see it when it was in theaters. Don't miss it.
TV: God. I don't even know what's on TV right now. Six Feet Under is pretty good, so if you have HBO, you should be watching that. It's not The Sopranos, but it'll help fill some of the void. If you don't have HBO, this summer would be a great time to run to the video store and rent (or Hell, why not buy?) the Sopranos VHS or DVD set. You can watch the whole first season and catch up on the best show on TV. Otherwise, just try to endure summer reruns and read MightyBigTV.
Comic books: I've been bad about this lately, but anything by Alan Moore won't be bad. I'm reading The Invisibles: Book One right now, which is pretty good, too.
Books: I just read an excerpt in Vanity Fair (I was in the eye doctor's waiting room. That's my excuse.) of a new book by James Wolcott called The Catsitters. It made me laugh several times, so that's what I'll be reading next, assuming my vision is still with me. Then again, there's always the audiobook if I should happen to go blind today. (According to Amazon, the book's not out yet, but it should be this month.)
That's it, kids. That should be enough pop culture to tide you over till Monday. See you on the other side of the laser.