21 Dec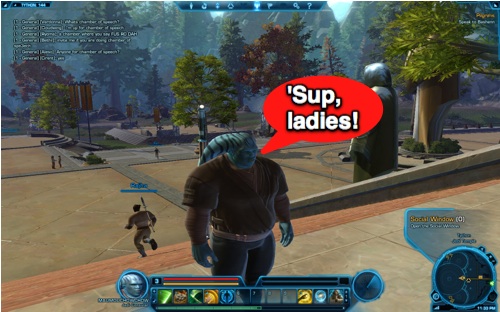 Sometimes things just work out.  All year, my editor and I had a story scheduled for the release of the new game Star Wars: The Old Republic, the biggest game ever developed in Austin, and about two months ago I started working on it.  The pieces (including a visit to the sizable studio) came together and this was one of the least stressy lead stories I've done in a while. The story ran on Saturday and I also posted a "Special Edition" follow-up collecting the deleted scenes and tidbits that didn't make it into the article.
It was just fun writing about Star Wars, I guess, which I never get to do.  In the image above is my character in the game, a Twi'lek named Maumauchowchow. Come say hi if you see me in there.
I also had a Digital Savant column run on Monday. This one was about posting your whereabouts online (or your holiday travel plans) and whether that can lead to getting robbed. It turns out it can!
Christmas week got here so fast that we haven't even done a holiday card yet (though I'm determined to somehow still make it happen, even if a time machine has to be involved), put up a lot of decorations ("Next year," my wife says) or finished with the shopping.  I'm on vacation next week, so whatever happens, I'll be resting and trying not to ruminate too much on the year.  I've never been one of those people to say, "Please let this year be over and bring on the new one" but this year I may be in that camp.  Lots of changes, not all of them great, have me eager to move ahead and see what's next.
If we don't communicate like this again before the weekend, have a lovely holiday.  Be safe, be merry, enjoy just being.