18 Nov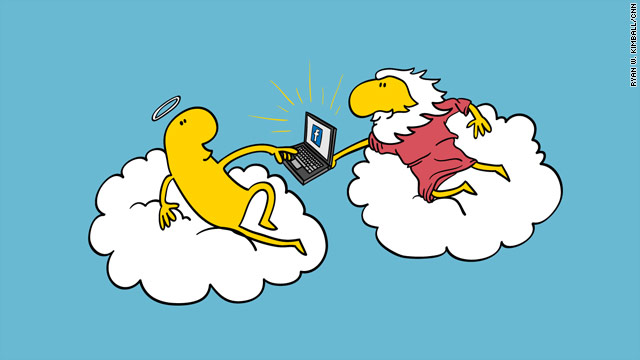 It's been a really busy two weeks, at work and at home.
Off stage, out of sight, we were dealing with a family medical issue that had us feeling worried and vulnerable all of a sudden. Then we got some good news that made things not-so-scary, but we're still reeling from having even dealt with the problem in the first place. It's something I really hope to write about soon, but I promised I'd hold off until we had some kind of resolution and we're just getting there.
Even with some of the sick time I had to take off, things actually seemed to speed up at work. As the holidays approach, our deadlines are getting tighter and I seem to be just writing and writing and writing.
The biggest surprise and bright spot recently was that CNN.com approved of a crazy, weird column idea I had months ago about Facebook theology. I pitched it tentatively, sure it would be a strange and unwelcome fit, but the editor I work with over there took a chance on it and ended up liking the result. The piece ran on the site today and this time at least I was prepared for abusive comments and ridicule. (Sample comment: "No disrespect to the author, but this is the dumbest idea for a news article I have ever read." Right. No disrespect.) It actually hasn't been as bad as I was expecting and the article has been shared more times on Facebook already than the previous two columns I wrote over the summer. And how adorable is that illustration up there? I really like it.
The CNN thing made up for having to try to explain to people why I'm not on NPR every week anymore (short answer: I don't actually know and am afraid to ask). After a rough couple of weeks, it was a nice boost I really needed.
On the Statesman front, I had a story on the front page today about Gowalla's big parks deal with Disney, did a story recently about Texas State professor Cindy Royal's online war of words with Wired over a recent boobalicious magazine cover, a review of the Xbox 360 Kinect that ran in Tech Monday (longer, more exhaustive blog version here) and a Tech Monday column about next week's Austin intellectual property summit.
As of this writing, I have another A1 story scheduled for Saturday (fingers crossed), tech gift guides running Sunday in the Statesman and later on Television Without Pity, a profile of Epic Mickey game designer Warren Spector and a Season for Caring story about an amazing Austin family I am lucky to have met. Shit got really busy lately, I'm telling you.
And on top of all that I'm working on an iPad-related writing project with an Austin company that I'll tell you more about soon. Busy times, but it's not all work. I'm watching tons of TV after Lilly and Carolina go to bed at night, trying to finish Franzen's book Freedom (50 more pages!), listening to great podcasts on my way to and from work and trying to enjoy life right now. I looked back on the summer and realized I was really having a hard time adjusting to our new reality (having a toddler and an infant in the house) and was really crabby a lot of the time.
Given the recent things that have happened, I'm letting myself enjoy the situation a little more and trying not to stress out so much. I know that if I don't relax and enjoy it, I'm going to regret missing out on some really wonderful times with my girls.