29 Jun
It embarrasses me like you wouldn't believe to admit this, but here goes: for about a year, I didn't read any books.
There are a few clear reasons: we had a baby in December and, as much as having one kid shortens your free time, two is a complete bitch as far as testing your time-management skills.
But I'd be lying if I said it's all due to parenting. The kids both go to bed relatively early and we had a lot of time during the pregnancy and maternity/paternity leave when I could have been reading. Hell, I could have knocked out a short novel at the hospital in the two days after Carolina was born.
The real truth is that all those evenings I used to read before bed, I was instead following Twitter and Facebook, working no any number of nighttime projects I have going (videos, podcasts, etc.) or just watching TV. I keep a pile of books next to my bed and that pile grew and grew as I brought home books from work, was given books as gifts and used gift cards to buy books on Amazon or Borders that I wasn't even reading. It got really frustrating and sad.
The only books I was reading were a few I was assigned to read and review for work. I got about 40 pages from the end of Chris Anderson's book Free: The Future of a Radical Price, and just never finished. It sat with my pile of books, a bookmark of shame lying in between pages toward the end of the hardback.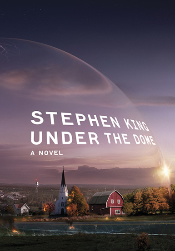 Not to hype the iPad any more than the astronomical level to which it's already been hyped, but iBooks is actually what got me reading again. I accidentally bought a $17 iBooks version of Stephen King's Under the Dome (I only meant to download a sample) and once it was download, I felt obligated to read it. (I had a print copy of the book. Yeah, I know. It wasn't getting read, though.)
The book, it turns out, is pretty fucking amazing. It's the best Stephen King book I've read in 10 or 15 years, probably since On Writing. And though I've missed a few recent ones (they're all in the stack), Dome feels like King somehow got re-energized, marshaled all of the things that make his best works great and told a story that's both incredibly ambitious and apocalyptic, but also personal and well-detailed.
And it's more than a thousand pages long. It must have broken a psychological barrier because after the two or three weeks it took me to finish that book, I figured I could finish anything.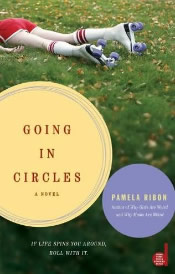 I moved on to Pamela Ribon's Going in Circles, which had arrived in paperback just as I was in the middle of Under the Dome. I bought the iBooks version, too, which was only $7.99 and switched between the print and e-book versions.
If you know pamie.com, you know the kind of silly, smart humor to expect, but this novel, her third, feels wiser, more heartfelt and certainly more mature than her previous books (which, incidentally, I loved). The book starts with the separation of a marriage and ends with a loving look at the roller derby scene, but it's much more than a "Divorce 'n' derby" tale of loss and new love. The bits that are funny are hysterical. The parts that are sad will break your heart. And the technique she employs to get you into the head of her main character, Charlotte, is clever and employed in just the right amounts.
By this point I was on a tear, and read Sarah Silverman's The Bedwetter. I actually got my copy signed at her Austin book reading (see goofy photo below where I have now convinced myself I said something that made her laugh), and dived right in.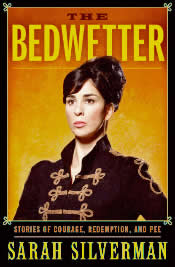 The first half of the book is amazing. It's about her childhood and she gives an honest, hilarious, self-effacing portrait of her bedwetting years. It's tragic and funny and well-told.
Then it stops. The second half of the book is about her stand-up-comedy years, her brief stint on SNL and life on The Sarah Silverman Program (which I loved and was sad to see recently canceled). The problem with the second half of the book is that it feels glossed-over, with huge stretches of time skipped over, and not nearly as smartly observed as the first.
Silverman feels the need to explain and defend the bits that have gotten her in trouble in the past, which by this point seems not only unnecessary, but pretty humorless given the source.
Even comedy nerds will be disappointed: she doesn't talk at all about her work on Mr. Show, Crank Yankers, Greg the Bunny or really much of anything else beyond her own show and appearances on award shows and talk shows that got her lots of attention. You wouldn't even know from reading the book that she dated Jimmy Kimmel save for one or two passing mentions of her ex.
It's strange how the first half of the book is so revealing and honest while the second half feels like it's written at a distance. Nevertheless, her foreword and midword are hysterical and the e-mail exchanges she peppers in the book are very funny. I just wish she had more to say about her career and life past the age of 18.
After all this reading, I went back and finished Free (kinda boring and unevenly written, but you'll feel like an expert on Web pricing strategies when you're done) and started the first book of Y: The Last Man, which so far is excellent. My stack of books is still huge, but I finally feel like I'm making some progress.
---
Reading Pam's book happened to coincide with news that a friend I've known since my college years had gotten divorced (I had no idea until long after it had happened). And just over the weekend, the increasingly messy divorce of a pretty famous Web video couple brought the subject up again.
It's been longer than a decade since I've dealt with a romantic breakup, and the older I get and the deeper into being married I am, the more terrifying the idea seems.
I know it happens every day, to lots and lots of people. It happens every few months, sometimes at a happy hour, where I'll ask how someone's doing and they give that shrug and hesitate before saying, "Oh, you know, it's been tough…" and I know exactly where they're headed in the conversation.
It's hard to be married sometimes. (Especially with kids.) It takes work and energy and patience and letting go of things that are driving you nuts. Sometimes all at once. But a separation seems like it takes even more energy and resolve, allowing more disruption and chaos to enter your life, even as you hope to get to a future where things begin to work out.
I don't know how people do it. Or rather, I don't know how they keep themselves above water, go to work, do the things you have to do every day without completely losing it.
I hope to never have to find out what that's like.