30 Aug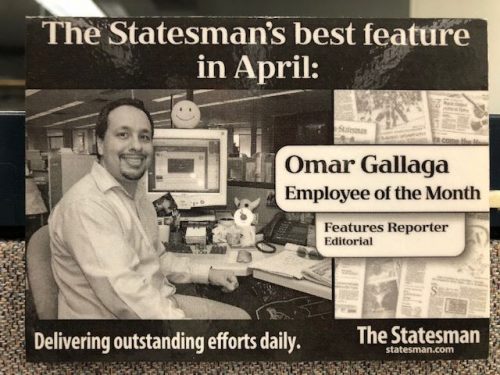 A bunch of many years ago, I got an internship at the Austin newspaper. That internship turned into a job and then the job into a career and I find myself 21 years later looking at the exit sign and beginning a long, long set of goodbyes.
I'm accepting a buyout offer from the Austin American-Statesman and GateHouse Media that concludes almost half of my life working as a reporter, editor, podcaster, video shooter, social-media troll wrangler and co-creator of ahora si, the long-defunct Technopolis tech section, the I Love You So Much: The Austin360 Podcast and "Statesman Shots," and 512tech.com from the Austin American-Statesman for the Statesman and Austin360.
My last day is Sept. 7. I'm still not 100% sure what my involvement is going forward, but I'm hoping to still contribute to the podcast and the paper. And I'm going to be super pissed if the wonderful staffers I work with don't stay in touch. Not getting to see them is the biggest bummer, the part I'm least looking forward to in this move. (And insurance! Anybody know where I can get some decent freelancer insurance? I like my teeth!)
I have so many memories of this place and so many thanks to give. Editors including Kathy Warbelow and Sarah Lindner Beckham and Sharon Chapman and Barry Harrell and Becky Bisbee and Debbie Hiott and Kristin Finan and Emily Quigley and Kathy Blackwell and Richard A. Oppel and Fred Zipp, staffers and creative partners from Andy Alford to Tolly Moseley to Addie Broyles and Alyssa Vidales and Gregory Kallenberg and Gretchen Heber and Melissa Segrest and Angela Shah and Josefina Casati and Gissela SantaCruz and Sharon Roberts and Rob Quigley and Joe Gross and literally hundreds of other names. Thank you to every reader, even the ones who just wanted me to come fix their broken printer or the ones who thought I was part of a vast left-wing conspiracy bent on turning Austin into a condo-spewing Mecca for tech dudes. (We did it, guys!)
People talk about not getting too wrapped up in a job, about not feeling like you should owe them anything but what you do for the paycheck. But this is a place that has kept me and my family fed and happy for so long, that put my damn face up on a billboard by the highway for the whole city to see, that let me take ridiculous flights of fancy with articles I never thought would actually get printed because they were so dumb, that let me jump from job to job and keep doing outside projects all the while, that allowed me to CREATE NEW THINGS that didn't exist before. That's where I got the most joy here, making new things and launching them with a team of passionate coworkers and seeing if they could thrive. I hope to be doing a lot more than that in this new life I'm starting.
I have loved my Statesman family and I'm going to miss it so much. But in the end, it just felt like, for me, it's time to go. I will keep reading and watching. I'll keep championing the great work that is done here.