10 Dec
"Where did you go on vacation?"
I felt like that was the wrong question even though it was asked of me multiple times. And not just by one person. Several people asked. And each time, I thought, "That's not the right question. It should be 'what did you do on vacation?' Who cares where I went? I got some serious shit done! Right here! In my house!"
I didn't leave my house very much is what happened.
But! It's all right! I'm used to it! I have two kids. This is not a life you choose for jet-setting unless your children are Spy Kids. I don't go to The Club. My life is boring sometimes, but in the best way possible.
So here is what happened: I ended up, with two months left in the year, with a lot of vacation time left to burn. I didn't get sick this year, really, and the various times my kids had to go to the doctor always fell on days when I could work from home and knock out a quick appointment or had help from my wife, parents and in-laws.
We took a week of vacation for Disney World, but when you factored in work make-up days for stuff like South by Southwest, it was still a lot of vacation/sick days (which for us are rolled together into one big Ball of Time). So I'm in the middle of vacation time after having just taken vacation time in November and am looking forward to going back to work next week and then taking time off again.
It was a lot of time to burn.
It didn't occur to me to book a trip or sign up for skydiving lessons or anything like that.
On my vacation, what I really needed to do was pick up boxes that had been boxing it up on the floor of my home office for months with no one to pick them up and deal with their content.
I needed to buy a new car, something I said I was going to do a year ago and that just seemed like too big a hassle to take on at any point in the previous twelve months.
And I still had things to write on the freelance tip (more on that below) and work-related emails to at least glance at even though I was "not working." In fact, the first few days of my vacation, I exhausted myself just writing and organizing and them sleeping half a day away because I was staying up all crazy hours as if I was not a person who had to get up at 6:30 a.m. every day because my vacation did not mean my kids were on vacation. No, it was pretty much the opposite of that.
So it's been a weird couple of weeks where my expectations of leisurely relaxation, iPad propped on belly and a continuous row of beers extending off into the distance, would keep me company as I hung out on the porch in unseasonably warm November weather.
Even that part didn't quite work out. It was rainy and then super-fucking cold, the kind of weather where if I had been working I would have had trouble even driving in.
"Where did you go on vacation?"
I probably should have planned to go somewhere, all right! The whole concept of a vacation that lasts more than a few days was so foreign to me that it didn't even pop into my head that there was enough time allotted to get on a plane and go see some stuff in a place that is not here. But that's just it. I wouldn't want to go on a vacation trip thing without my wife (who doesn't have time off like I do and reminds me of it at least once a day with, "Must be NICE!") or… OK, maybe the kids, too. If they're behaving. Holy crap, that trip back from Disney World might have put me off of flying with children forever.
What else I did on "Vacation":
I went to Austin a few times to attend some going-away events for 17 of our beloved newsroom colleagues.
After some weird performance anxiety and a few months of second-draft editing, I sent the first few chapters of the novel I finished in the summer to my literary agent. Yes, I have a literary agent; I signed with him more than a decade ago. No, I've never written a book before. Yes, he's the most patient person in the world.
I put in some major video game time, which I haven't been able to do in a while as things were so busy in November. Super Mario 3D World is really fantastic, as is Resogun on the new PS4. Not too crazy about some of the other PS4 games I've tried, honestly, but the system itself has impressed me, especially the game-streaming stuff, which I never thought I'd care about.
I put up Christmas lights. Then I ran out of special staples I use and had to use stickies and stickies are terrible and fall down, so I'm going to have to do a re-do.
Thanksgiving turkey. I didn't cook it, but I sure ate some.
This was a little bit before vacation, but I had a tech gift guide slide show run on Television Without Pity. An annual tradition!
Started working with Raul Garza and the other writers on the next Mexcentrics sketch comedy show! I was dubious about the timeline we have to work with, but in one meeting, we pretty much sketched out the frame for the show and ended up with more than a dozen solid ideas. Latino work ethic ftw! This show is scheduled for February.
Wrote this blog post! What? This was on my to-do list!
Statesman writing stuff
I'll keep it short, unlike last month's barrage of stuff.
Digital Savant column took a short vacation as well, but there was a column that is running in Tuesday's newspaper, my look at the state of social media in late 2013, from selfies to Snapchat and more.
On the Micro side, I advised a reader about large-format e-ink-based ebook readers.
Last time I mentioned we did a pilot episode of a new Austin culture podcast. The response was really good! My editors and other folks I worked with really seemed to like it and we're planning what to do next. My hope is we can get moving in January to continue what we started, but we'll see what happens. There's a lot of logistics stuff that needs to be worked out. But I'm so glad people seemed to enjoy what we did and that a year of anticipation seems to have paid off. In related news, podcast co-host Tolly is pregnant! Congratulations to her and her husband who have a lot of great times (and little sleep) in store for them.
And that's it! Vacation!
On Previously.tv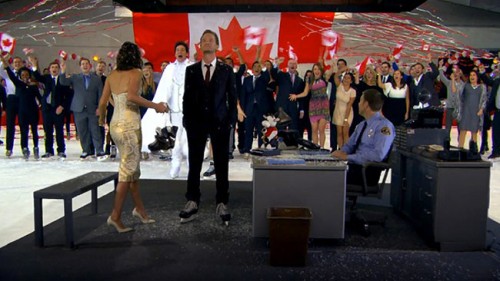 I think there's only one more episode of How I Met Your Mother before they go on a little break for the holidays. My most recent Show-O-Matic about it is for this last season's Episode 12, which was a gigantic ode to Robin's Canadian heritage.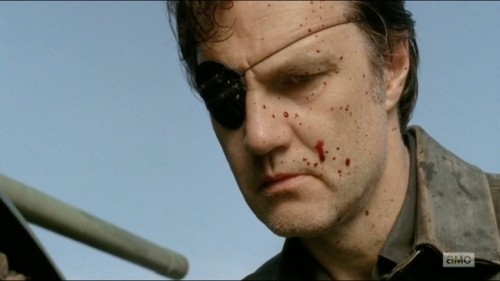 More significantly was the mid-season finale of The Walking Dead where lots of characters died and much mess was made of converging plotlines. It was a ton of work visually recapping in Particles form all the late-episode action, but somehow it all worked out. The show returns in February for eight more episodes.
In space with simians
New Space Monkeys! comics: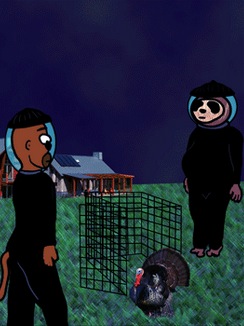 Only one, but it's a Thanksgiving comic that I really enjoyed writing. (It was very little writing, honestly)
Last things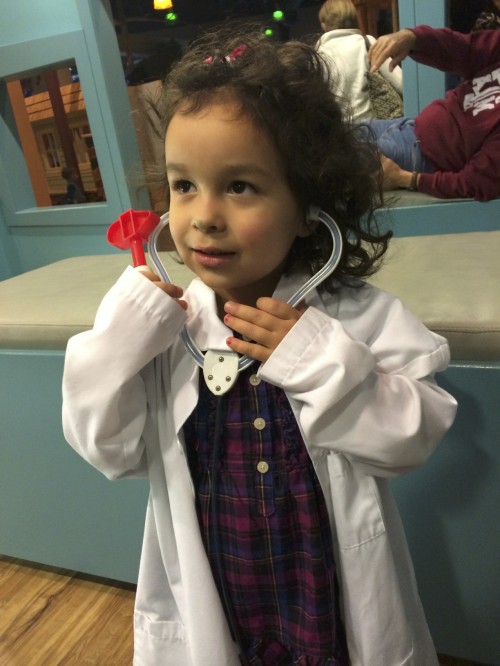 Carolina got a haircut (not pictured) and a medical degree.
We went to a comic book convention in Austin and THIS HAPPENED: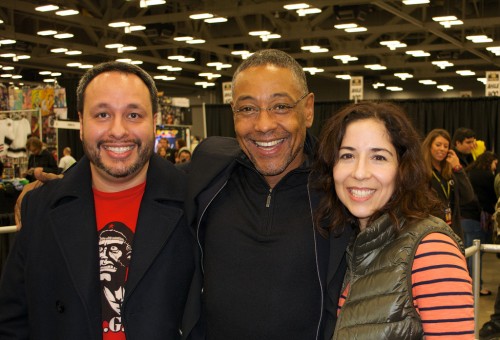 I can't top that. Talk to you next time.