29 Sep
If I look back over the last few weeks a few months from now, I will probably remember it as the period in time when I was completely obsessed, along with a lot of people I know, with Breaking Bad.
It's a great TV show, one that clearly has ascended into a piece of art that, assuming things go well (or horrifically) on Sunday, will be remembered and discussed for a very long time.
I know that for my part, it's affected my sleep and probably my stomach and emotions way too much. It's been like having a family member who has been very sick for a very long time or being at a job that you know won't last. You know something bad is coming your way down the road and you both dread and welcome the end to come, if only so you can move on with your life and get some relief.
That's how I feel about Breaking Bad. It's been a joy to watch. There has been some really smart writing, great performances and even some real laughs. But these last few episodes have been so grim and hopeless, the explosion we all knew was coming (and that poor, sage Mike Ehrmantraut predicted) has happened and it has been absolutely stomach-churning.
So, as much as I like to think I'm above letting one TV show affect me, it can't be a coincidence that the last few weeks have felt strange and anticipatory and kind of frozen.
There are plenty of other factors for that, probably; the school year has started, a project I want to do at work has been stalled for a little while and I hit a major rough patch in editing my big fiction story I've been working on (that rough patch, thank goodness, has passed).
But I bet I'll look back at this month and think, "Oh yeah, that was when Breaking Bad was ending. We were all a mess."
One bright side: I was asked to write a story at work about the ways that the Internet helped fuel the survival and growth of Breaking Bad. It runs in Sunday's newspaper, just in time for the series finale. All that heartache from watching the show was worth it!
[This might be a good place to note that the Breaking Bad story and the columns I mention below are subscriber-only on MyStatesman.com. You can now get a 99-cent day pass and read them all at once. Do that!]
Other stuff…
…that happened this month in no particular order:
We had a gymnastics party for Lilly birthday (which we pushed back the party on a few weeks for after school to start) and that went pretty great.
She also lost a second baby tooth on the day I'm writing this. It's like living near a leaky nuclear power plant around here.
I went to an Electronic Dance Music concert (more on that below in the Space Monkeys! section). I was the second-oldest person there. The first-oldest was 60 and sat the whole time.
I also went to a game night at my brother's place in Austin and got to play Cards Against Humanity and Zombicide with a group of really good players. That was super-fun.
Progress on the fiction project: I'm about 50 pages from finishing an edit/revision/second draft. It took about 6-7 months to write the first and has taken more than three months to get it to a second draft, far longer than I was expecting. I guess that's par for the course, I just didn't know since I've never gotten this far on something of this length.
Met Doug Benson at Fantastic Arcade!
Work stuff
Columns: This was a great idea from our editors that I ran with: Why is surveillance video that we see on the news so crummy? Shouldn't that shit be HD by now? "Zoom in. Enhance!" No? Not really. That column explains why.
I traveled to Belton, Texas, for a column about education. In this piece, I ponder whether a piece of software like the Austin-made interactive whiteboard tool LiveSlide gives us a glimpse of what classrooms of the future will be.
If print and digital comic books are peacefully coexisting, what happens in the future? I've gotten a little obsessed with collecting comics again this year and this column talks about what happens to the collectibility of comics when they're all digital. (Spoiler: as of now, the two concepts are not compatible.)
After a lot of online discussion on the topic, I wrote a column asking "how risky is it to post photos of your kids online?" Bonus: the blog post for this column had some extra content.
Here are the last few Digital Savant Micro features: What is GitHub?
A reader asked for some one-eared wireless headphone options for listening to audiobooks.
What are some of the best ways to transcribe to digital the audio from a meeting?
Videos: I covered the great indie video game fest, Fantastic Arcade and shot video there.
Austin game developer Richard Garriott had an auction for some of his stuff!
Random: I covered the new Apple product launch with lots of Tweets included in the post.
On Previously
Last time I mentioned that I had written a few pieces for the excellent website Previously.tv. Since then I wrote a piece about the ubiquitous host, stand-up comic and Nerdist empire builder Chris Hardwick. The best thing about the piece is an amazing graphic that Glark worked up to go with it. How great was it? Hardwick himself took note:
@omarg @Glark I could host an aftershow for your graphic!

— Chris Hardwick (@nerdist) September 5, 2013
It looks like I'll be doing regular coverage of the new season of a very popular show for the site soon. It's a show that people are dying to see return.
On Space Monkeys!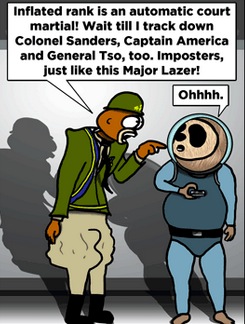 This has been a bit of an off month with our comic. First, we had a calamitous incident in which we updated a theme for our comic only to realize after the fact that it was a major, major revision that would involve a lot of work just to get our site looking the way it did before the theme "upgrade."
We still don't have it quite right, but we're still working on it and are learning such wonderful, time-consuming WordPress things like how to make a child theme and how to troubleshoot troublesome Typekit fonts that don't appear when they should.
Fun!
Due to some of that and also just a lot of work that Pablo and I needed to catch up on this month, we took a two-week break, our first vacation all year after posting a comic every single week since the top of January. The comic will return next week on Oct. 3 and new comics will post on Thursdays thereafter.
Since last time, we posted a comic about hipsters and comics about hipsters!
We posted a comic about our trip to see Major Lazer in concert, and I described the experience in some detail in a blog post called "Old Man at the Show."
Part of the problem with our website issues right now is that blog posts we write to go along with the comic aren't appearing with comics in our archive. The blog/news post that goes with the comic does appear, but not additional posts that Pablo and I might have written. That's a bit of a problem and we're still trying to get help from the person who created the theme/comics plugin we're using.
If, for instance, you missed the latest comic and tried to find the blog post I wrote to go with it, you would have missed this amazing Vine video I embedded in the blog:
They still let me go to shows like this. https://t.co/l1uHwjkf1o

— Omar L. Gallaga (@omarg) September 8, 2013