3 May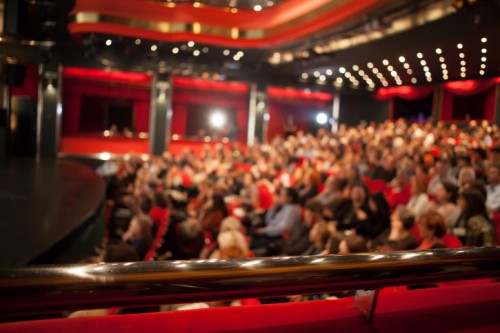 This week, I've been thinking about audiences. What it means to have one, what it's like to not have one at all and whether it should matter either way when you're writing.
For a long time, when I was working with LCP, I was writing and performing. Sometimes I was performing in things I didn't write, but a lot of times, I was writing stuff for myself that I knew nobody would bother with if I didn't do it myself and push to get it in a show.
I don't really miss performing. I mean, I do, but not the being on stage in front of a bunch of strangers part. If I really wanted to do that more, I would agree to more speaking engagements or make an effort to hit some open-mic comedy nights. The performing part, though, the feeling of connecting with an audience and being heard — honestly, I get that from writing for the paper, from posting here and over at Space Monkeys! (where the audience since we relaunched this year is tiny, but suddenly growing and gaining traction). I never wanted to do stand-up comedy (the touring, the empty rooms, the clawing your way up always struck me as sad). But I've always had a need to connect with people with words, no matter the medium.
And, not to sound ridiculous, but I get the same Dopamine hit from social media, specifically Tweeting. The few times that I've gotten retweeted 50 or 100+ times just for tapping out something fleeting that crossed my brain has often felt as good as when I used to put on ridiculous costumes and project the shit out of some jokes on stage on a Saturday night. That probably sounds silly but I would have probably given up on Twitter ages ago if there weren't some truth to that. It's less risky physically; I don't have to worry that I'm going to walk on stage with the wrong hat on or flub a line. On the other hand, Tweeting something stupid could get me fired. So it's not without a similar element of danger.
I've been writing a couple of things for a while now that have not seen an audience yet and it requires so much more motivation to keep the energy going when you know that what you're writing it's not going to get read for a really long time, if at all. You have to believe in some way that somebody's going to see it even if it's just a future version of yourself.  Sometimes the idea that it needs to get out there and reach someone in some form is enough motivation to knock another three or four pages out late at night when I just want to go to sleep.
Recently, a creative person I greatly admire showed me a piece of art they worked on that, for dumb reasons that are specific to their industry, will probably not be seen by anyone outside of the very small group of people who worked on it and a few close friends.  Maybe forever. What I saw was complete. It was fantastic. It was something I'd post on Twitter and share with the world if I could. But it's not out there and, realistically, might never be.
If I made something really good, something I believed in and poured my heart into and I couldn't share it… that would really break my heart, I think. It's happened to me before, but not really with anything as big and complete and audience-ready.
I didn't know whether to feel lucky to be one of the few people who got to enjoy this wonderful little thing or to be sad for everyone who won't.
I thought about all that a lot over the weekend as I helped cover the Moontower Comedy Festival. It brought back all of those years in the sketch troupe trying to build an audience, touring around the country, worrying constantly about whether the stuff we thought was funny was going to work for an audience and stressing over reviews and box office. Sometimes that audience was small but made up for it in big laughs. Other times the size of the audience was huge and scary and organic; it made the nerves sharper and the performances bigger. I don't know how long we would have stuck it out if there had been no laughs and no people to see us. It wouldn't have been 10-15 years, that's for sure.  Now I'm in it again, on a much different scale, but it's exciting to see a new group of people (much younger people for the most part) learning those ropes. It makes me happy seeing that.
It's a little weird to be a writer who has different-sized audiences for different things I work on. I know when I write a comic that there's a sliver of people who will see it. I know when I write for the paper that the print and online audience is made up of a lot of people I'll never see or hear from. We know they're there, but in terms of feedback, they're invisible to me. And then there's the social media audience where you get more immediate feedback, but that's not always how it happens. Sometimes I'll run into someone who follows me on Twitter or is a Facebook friend and they'll mention something I wrote months ago, a quick 140 characters that I forgot about five minutes after it was posted. And it reminds me that we can't really know where our words go, how far they travel, who absorbed them.
Maybe in the future we'll know exactly that information. It'll all be quantifiable and you'll never have to wonder if you touched or made laugh more people than you imagined. That idea is amazing, terrifying and a little sad all at the same time.
---
Here are the Moontower Comedy and Oddity Festival reviews I wrote in my wild week of going out and seeing comedy stuff. (Actually, it was only two nights, but it feels like a wild and crazy time any time I get out of the house past 8 p.m.)
The fantastic: Dana Carvey made me all nostalgic and warm; Godfrey completely blew me away and Chris Hardwick showed me he's just as great a stand-up comic as he is a TV host and podcast nerd.
The pretty good: Amy Schumer did not blow the doors off the joint but she was appropriately filthy for a midnight slot; Fortune Feimster was new to me and totally charming.
The bad: I didn't review this one, but it sounds like Janeane Garofalo was just not funny, which if you've listened to her on any podcasts in the last year or two sounds about right.
As an unexpected bonus to the festival, two days after it was over I got to see a live recording of one of my favorite podcasts, Professor Blastoff. Tig Notaro and Kyle Dunnigan are two of my most-adored comedians right now (they're writing for Amy Schumer's show on Comedy Central) and their guest was Doug Benson, who brought a mean streak to the usually jovial, light-hearted podcast. Something about the chemistry worked and it was just an incredibly fun time, especially for a Monday night. I bought a T-shirt.
---
Here are the recent work things I've been working on:
I wrote a Digital Savant column about the Globaloria video game design program, which has some future stars in the East Austin High School Prep program. Really enjoyed meeting those kids, talking to the teacher in the story and learning more about how the program works.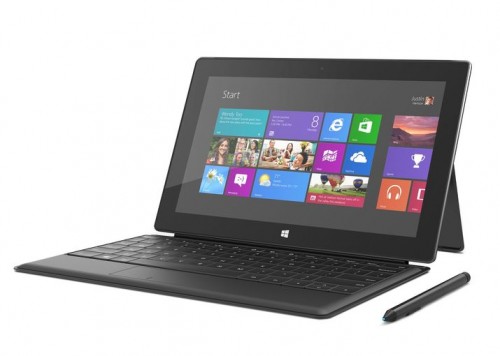 My column this week was a big wrap-up review story on Microsoft's consumer products like the Surface tablets, Office 2013 and Office 365 plus their Windows Phone 8 software and Windows 8 itself. It was a lot of ground to cover, but I've been using these products for a while now and I think I got a good sense of what's working and what needs work.
The recent Micro features were about paywalls (intentionally timed; it's now behind a paywall) and a Micro defining "Oculus Rift," basically a VR headset for gaming.
My next column is about my crippling Kickstarter addiction. You can read a preview/blog version here.
You may notice that the stories I'm linking to now take you "stubs," incomplete versions of the stories that you can read in full on the new MyStatesman.com website. Here's more info about that.
For now the site is free, you just have to register.
---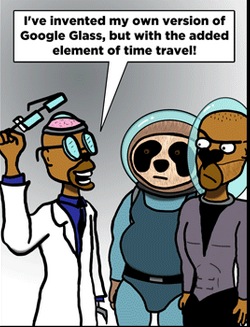 Since last we talked, our Space Monkeys! dealt with email overload (or did the opposite, actually), were horrified by sorority email profanity and played with Google Glass (now with time travel!).
Please check them out and if you have a sec, vote for the comic on TopWebComics if you would or at least throw us a Like on our Facebook page.
In case you're wondering, my back feels a lot better, but that awful fiery spot still flares up once in a while (today, for instance). I've been using a heating pad and I still have some muscle relaxer left. It may be another trip to the doctor or at least a massage therapist soon.
A bigger pain in my back this week was that my WordPress theme somehow got corrupted so instead of finishing this blog entry last night, I was playing around with custom.css and function-what-have-you and other messy, bloody innards of this site trying to get it to look the way it did before with the theme re-installed.
It's most of the way there, but menus/navigation are still missing and I haven't cracked those weird WordPress nuts yet. If you're a WordPress genius and want to help, let me know. I don't want to stay up late again tinkering tonight.