Two mornings.
Traffic and clouds, which is all of Austin right now. We've had rain for what seems like weeks now, just a constant stream. On the weekends, it's hard rain, stay-inside rain. During the week, it's a dribbling, drizzly mist, just enough to annoy, not enough to make you stay home from work or foresee that you'll need an umbrella later.
The first morning, last week, I was rushing to work because I had a 9 a.m. phone interview with Jerry Seinfeld to do.
Journalism is full of peculiarities like this. You think you're going to put together movie listings or go to a bunch of meetings during the week and then you get a call from someone asking about an interview and the next thing you know, Jerry Seinfeld is going to call you at 9 a.m. on a Friday morning to talk about comedy.
Journalism: Fucking Surreal. They should use that as a motto for prospective students of the field.
A close friend of mine who moved to Atlanta for a job recently had Oprah Winfrey come over to her loft for an interview. That's journalism. You never have any idea what kind of strange thing is going to land on your lap. That's why you do city council meetings and school board interviews in Harrah, Oklahoma, for years. So you can get to a point where some of the fun shit kicks in.
But to get to the fun, surreal stuff, you also have to get to the office, and on this morning, with the clouds and the traffic, I was moving along at about 1/15th of a mile per minute. You know that feeling, when traffic is moving inches at a time. You move a car-space, then come to a complete stop.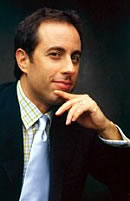 I don't know that he'd be too broken up about my traffic issues.
And I'm not used to that, even though I live much farther from work this last year than before. I tend to get to work around 10 a.m., and that's strategic. If I leave the house at 9 and it's going to take me 45 minutes to get to work, why not just leave at 9:45, when there's no traffic, and get there at 10? And the sleep thing, of course.
So I leave the house at 8:20 or so, thinking that's plenty of time to get to the office for my 9 a.m. interview.
At about 8:45, when I wasn't even close to my exit, I began to mentally run the numbers in my head frantically. If I get there at 8:57, how long will it take to find a parking space, run across the parking lot, dash up the stairs (make sure you have your keycard in hand; can't spend precious moments fishing it out of the pocket), run down the hall, run across the newsroom, get to my desk, boot up, answer my phone, make sure the tape recorder is picking up properly, and get my heartbeat down to a reasonable level for a conversation with Jerry Seinfeld? Should I call someone and ask them to monitor my phone and stall? What would they say? "Oh, hi Mr. Seinfeld... He's not here yet. Could you hang for 10?"
It went like that in my head for that last half hour, and I ended up making that exact dash and getting to my desk at exactly 9:02 a.m.
I check my messages, fully aware that I may have just missed the interview completely. And yep, there it is, a message from the publicity person. She's leaving a message to say... that they're running 10 minutes late.
Ah.
So, yeah, the interview happened, and it went longer than I expected, and Jerry Seinfeld was nice (even though he sounded a little stuffed up, like he'd woken up just a half hour or so before), and we talked about his new movie Comedian, and it was good.
Except... There's this moment in the movie where he blanks on stage. He's preparing a new set of material and he just loses his train of thought. It's really tough to watch.
And while I was interviewing him... I, uh... I...
I did the exact fucking thing! I burned through all my prepared questions, I'd ad-libbed some more questions based on his answers, we'd chatted back and forth a bit and then... all of a sudden I was left with nothing to ask. This never happens. You can usually find something to ask anyone and this is Jerry Fucking Seinfeld. I've probably seen every episode of Seinfeld twice, I've seen all his stand-up specials, I just saw this documentary he did, I've seen all the shows (even the crap ones) of all the former actors from his show, I watch Curb Your Enthusiasm religiously, and I can't think of a single thing to ask this guy on the phone?
Yeah, I was frazzled from the traffic, and 9 a.m. is not my brain's high-function time, but still!
Anyway, I stammered, and told him I blanked, and I made the even bigger mistake of actually referencing when he blanked in Comedian, and said I felt like he must have in the movie, and... my God. Somebody just shut me up.
This is how nice he was: He said he was going to go grab a glass of water and I could get myself together while he did that.
And he did
And I did.
And we moved on.
That was my Friday morning.
The interview is here. And here's the review of Comedian I wrote that ran with it.
Bonus -- A quick sound file from the interview. Choose your poison:
.WAV file (about 1.6 meg) | .MP3 file (about 600k)
I'd just had a lot of coffee. I swear I don't usually talk that fast or that high.
And this morning, I was fighting traffic for a completely different reason. I was going to court to fight a speeding ticket. I don't want to go into it, but let's just say I have a firm belief that if there's no sign on an entrance ramp to a highway and the first sign that does appear after that ramp says 65 mph, then that means the speed limit is... help me here... 65 right? Well, no. In Texas, it's 55. And that sign up ahead that says 65? It's lying. It's only 65 up there. Not back here, 100 yards away. Back here it's 55. Because Texas drivers all have psychic powers that uplink to the fucking Texas Department of Public Safety Oversoul.
So, this morning, I was rushing to get there by 9:30 because if I didn't make my court appearance, a warrant was going to be issued for my arrest.
Now, I've never been arrested for anything. I've never been to jail outside of my own accord (for reporting and stuff). But suddenly, just being late or oversleeping or getting stuck in traffic or the promise of early morning sex (however remote) could result in a warrant issued for my arrest.
And suddenly, I felt sexy. I was a potential warrantee. All I had to do was not show up and suddenly, I'd be a criminal. A wanted man. El fujitivo.
I got to the courthouse on time, in the rain, and it wasn't really sexy at all. It was a round room with a bunch of sad, weary-looking people, all trying to explain why they don't have insurance ("What, my work insurance doesn't cover when I stole all those cars?") or trying to talk their way out of forgetting to pay a ticket.
My fantasy of representing myself and telling the judge or jury what's what was quickly dashed. This was a machine, a legal one, and nobody was going to listen to my shit. I took the smart way out: defensive driving class, with a $65 fee. It all took an hour, and it was done. (Except for the defensive driving class, which I'm sure will be absolute mountains of fun.)
So this week has been all about getting there on time, not missing things.
Missed opportunities, stress, arrest. These are the things I face when I don't take the traffic into account.