First off, Happy Halloween! (That's a cheesy way of not decorating the Web site, but still getting across the sense of jovial holiday acknowledgement).
I had all kinds of ghoulish plans for this year, including dressing up like Bjork in her swan dress. No, seriously. But things got amazingly hectic and crazy the last few weeks, so instead I settled on promising myself that next year, when I'm living in my own house, I will throw a huge Halloween party and decorate it all scary if I'm willing to forego the festivities this year. Next year, baby. It's gonna be the bizzomb.
In the meantime, you can read last year's scary story for some pre-All Hallow's Eve stimulation.
---
I put an offer on a house. It happened yesterday afternoon. I had found two places I really liked on Sunday and it was a matter of choosing an affordable and very adorable house that was a little ways from work or a place that was just above my price range, but very well located and needing a lot more work than my non-handyman ass would be able to put into it.
In the end, the adorable house in South Austin won out. I saw it three times in two days, and by the third time, I was completely sold. I worked with my realtor, came up with a price to offer, calculated all these crazy figures like closing costs, mortgage lending fees, craziness. It's scary and intimidating looking at all those figures on that sheet because every number on there is a fucking dollar figure coming out of your pocket at some point over the next 30 years. Yeah. You can't take that shit lightly.
But barring something horrible like the seller refusing our offer, it looks like I may be moving into a house I own as soon as the end of November. I'm excited. I've been waiting a long time for this. If the deal goes through (I should know this week), I'll post a picture of the house and tell you all about it. Right now I just don't want to jinx the deal.
Here's something that would seem to have nothing to do with it, but indulge me for a second: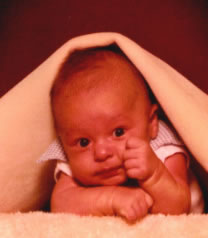 So yeah, that's me. My dad sent me me this picture today and it freakedme out a little. Because, I mean, look! I'm all little .But what's weird about that picture is that it looks like I'm really thinking about something there. I'm not all spaced out and "Ga-Ga." It looks like I've got plans. And my eyes -- they look the same as my eyes do now, practically.
The thing my dad said when he sent that picture to me was, "Now that little guy is buying his first house."
I wanted to cry.
---
My friend Michelle and her husband Brad in Oklahoma had a baby Sunday. His name is Ryan and he was born 8 lbs., 6 oz. Which is big for a baby, right? Michelle and Brad are soccer players and I told her she's got a goalie on her hands.
I got to call her in the hospital. She sounded so incredibly happy. It was wonderful. She may write a guest entry about the process of making a human and having it taken out of your body after a gestation period. Frankly, I'm fascinated by the whole process.
---
Remember the whole domain name debacle? I sent a certified letter last week to the people who have my old domain name, in effect asking them reasonably to give me back my domain seeing as how they're infringing on a copyrighted name I created. I got this over e-mail on Tuesday: