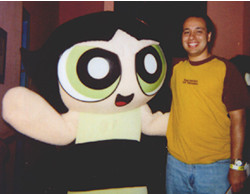 I didn't even have to ask if she was going to wear white...
The birthday fun continued through the weekend, and it culminated in the one gift I gave to myself.
The PowerPuff mail order bride I sent away for finally arrived!
I call her "Buxom."
She calls me, "Quan Toe Pei." Which I think means, "Handsome guy who paid $995 for my hand in marriage" in some other language.
We're going to be very happy together.
Except that she doesn't have discernable fingers or toes.
That's okay. Love always finds a way.
---
At first it felt like a mistake because the people there were so serious and everybody who went on stage seemed like they were completely on their game.
Chuy had recommended The Common Interest, a karaoke bar way up north, far from my usual haunts. I invited some folks, and all told about ten of us were there, crammed into a narrow table shoved against the stage. Our waitress took our orders and we try to get acclimated.
I'm used to doing the karaoke 'thang around people I know, small groups of mostly comedians whose goal is to get up on stage and make everyone laugh. This was a completely different scene. These were talented singers going on stage, strutting their stuff, going for big applause. It was obvious man of them were regulars, maybe of some karaoke circuit I know nothing about.
My group, some of whom had never even seen live karaoke, suddenly clammed up, having previously assumed that karaoke was for the talentless. No, in my experience karaoke attracts several kinds of people: Those who love it and are casual, those who are embarrassed and only get on stage when very drunk and the people we found that night: The hardcore karaoke junkies.
But as the night wore on, as drinks were piled on the table and plied into our systems, things loosened up. I did "Wicked Game," one of my standbys, and interjected as much levity as I could (including trying to get the audience to join in on the high part and pointing out people in the crowd that I had no intention of falling in love with). I think people appreciated the goofiness because soon after, other people were going on stage and making asses of themselves. (Including the literal asses we made of ourselves when Jessica sang "Baby Got Back," and Rebecca, Gissela and I provided backup dancing, including shaking our asses and slapping each other on the rears.)
At midnight, the DJ declared a cease fire and put on some dance music for people to go onstage and shake their thing. Then the karaoke started up again and I gave a long-distance tribute to djb with a rendition of the now-classic karaoke jam, "All Night Long" by Lionel Richie. It is a song that, as djb has proven again and again, is guaranteed to get 80s babies out of their seats an onto the dance floor. This night proved no exception. On the gobbledy-gook part in the middle, the only word I could make out was "Jumbotron." I kept repeating that word again and again and tried to get the crowd to raise the roof.
About the crowd: Very late 20s/early 30s. A few older folks. A few groups of women out for an obvious "ladies' night out." A few cowboys. And then us, the group that cheered loudly for anybody who went on stage and yelled out the name of whoever was singing. We were right in front, so we made ourselves heard.
I was exhausted by the end of the night: I'd gotten up early to shoot an LCP sketch at the district court (we had full run of the place on a Saturday! Shhh... don't tell anyone that I put on some judges' robes I "borrowed" from an open office.) I'd spent the evening at dinner. By 1 a.m., I had a headache. I'd had too much to drink. The smoke was burning my eyes. But, damn, I was having so much fun.
A guy who looked a lot like Tim McVeigh got on stage and sang "Funky Cold Medina." It was the single most brilliant performance I've ever seen of anything in any medium. He just got up there and when he couldn't keep the song going, he just started screaming it. "Funky Cold MEDEEEENAA!" And he did this little loose dance. It was genius, I tell you. We couldn't stop laughing.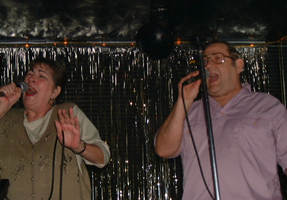 This is absolutely not a joke: This couple sang "Play That Funky Music, White Boy." I kid you not.
Still, I'm not sure what it is about the karaoke that makes me so happy. I was there with a group of my closest friends. Some of them had never been exposed to it. And every one of them was laughing. Most everyone went on stage at least once. We were in an unfamiliar place with a roomful of strangers, and the intimacy of the music, the proximity to the stage, the willingness to share one of the biggest human fears: Performance in front of a group. It is always magic to me.
There aren't a lot of things that are pure fun and that don't have some kind of real cost. Karaoke ain't free, but it sure as Hell is cheap. And it was the most fun I've had in a very long time.
I put in a request, my third for the night, for "If You Don't Know Me (Omar's patented Ike Turner Mix)," but we never got to it.
But I did get a comment from the DJ: "Hey, Omar, right? You're a cool guy," he said. That was the ultimate birthday gift: Getting props from the karaoke DJ.

Days 17 to 20: I can't see her if she's facing sideways.

Cosa's Hunger Strike to End Third-World Debt

Days 17 to 20
Cosa hasn't been moving around much lately. In fact, she hasn't moved around at all or even been breathing for that matter. I think she's just resting. She's probably still just conserving energy. I imagine a hunger strike takes a lot of energy, what with all the not eating and all.
I mean, seriously, I wouldn't know. I just ate a big bowl of Pasta Milano at Macaroni Grill last night. I don't know the first thing about hunger.
I got a letter in the mail yesterday. Wanna hear it?