Maybe about a year ago, I was at home, going through some boxes in my parents' garage. When they made the big move from Midwest City, Oklahoma, to Converse, Texas, a bunch of my old books and writing gained a prison sentence: They were banished to about five or six large cardboard boxes, doomed to attempt survival amid car wash supplies and the odd dispersal of Hyundai carbon monoxide.
I'd been looking for a few old books, I don't remember if it was my copy of The Dark Knight Returns or some old Stephen King paperbacks. I don't have room for all this stuff in my place here, so there it remains, until the day when I find a bigger place or have the time to go through it all. I don't see either happening any time soon.
On this day, I was scouring boxes from one side of the garage to the other. On top of one stack were several old shoe boxes. Shoe boxes were where I used to keep all of my correpondence. Postcards, letters, photos, notes written and passed in class. I bet I can chart every relationship I had in high school through the contents of those boxes.
Inside the Nike Air Jordan box (I've only ever owned one pair of Jordans, when I was about 14, and I still have the box) was a photo of Tracy. She was tall, skinny, and I'm not afraid to say gawky. She had a huge smile, and squinty eyes and she was wearing a short skirt and her stockings made her look as if she were trying to appear 10 years older. I didn't know it all at the time, but she was living a lifestyle of someone about 10 years older and eventually it would come to a head in a bad way. Neither of us knew that at the time. We were just pen pals in love with the idea of writing. We were in love with ennui. We called ourselves Angst Twins.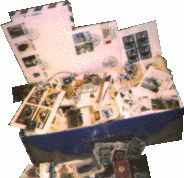 I think our letters to each during those teenage years averaged about 15 pages each. And we'd only met face to face once. In fact, we've still only met face to face once. But our letters -- God, I wish I could share some of them with you. I think we were smarter back then than we are now. At least it seemed like we had all the answers. We wondered why the rest of the world was so stupid, and how much better a place it would be when we ran away to a cabin in the Pacific Northwest and sat at typewriters arranged back-to-back. There, we'd dispatch our novels to the world. Then, maybe we'd have some sex. We didn't know. We were too young to know how all the politics in the life of artists worked. But the sex certainly sounded good. I mean what else are you supposed to do in a remote cabin when you aren't committing your brilliance to paper?
Tracy disappeared for a while, after a bad time passed. Then she came back seven years later, married, with a child and living overseas. I couldn't believe it. In fact, I was a little offended (no offense to the Mini-Kaiser). But, I mean, what the Hell? What about the cabin? What about the existential cheap sex? I was prepared to learn how to chop wood! And then she goes and gets a life full of responsibility.
Whatever.
I love Tracy because she's brutally honest. She will hurt herself telling you the truth about her demons.
She used to send me crayon drawings stuffed in envelopes littered with song lyrics on the outside. One time, she illustrated the lyrics to "Mrs. Robinson," detailing Mrs. Robinson's delusions of religion. She once wrote in crayon the lyrics to "Build a Little Birdhouse in Your Soul."
What she's going through right now scares me and exhilarates me vicariously because I don't know that I'd have the courage to do what she's doing. And I don't think I'm as honest in my writing as she is. I'm sometimes more interested in the truth within the lie than the plain truth itself. I make things up. I think it's cute to write like someone else. And I don't reveal nearly as much about myself in spaces like this as I should. Maybe that's the penalty for tying your life to the veins of others'.
But about Tracy, I can be honest, because she wouldn't respect me any other way.
Tracy changed my life. She made me write when I didn't feel like I had anything to say. (A curse that continues to this day.) I wrote, if only to keep up with her thick, adventurous, blistering letters.
I don't ever worry that Tracy won't be Tracy. Because if she ever lost her way, I would pack up the shoe boxes in my parents' garage, stuffed with dozens of thick, packed envelopes. I would take them to her, and I would remind her.
But I don't think she'll ever need that. Tracy knows who she is, even when those around her don't. And that person is better than all the treasures in all my shoeboxes stuffed with chunks of the past.
---